Aloo-kumro (pumpkin With Potato)
Bengalis have the tendency of putting potatoes in any kind of recipe. It feels as if potatoes are an integral part of all types of recipes. Everyday after coming back from office, its always a pain staking job to think what to cook for dinner. Last night I was only left out with a piece of pumpkin and some potatoes in my house. That was the moment when I ended up cooking this recipe.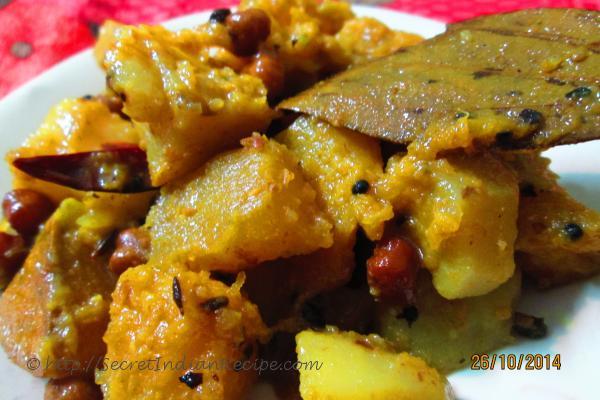 Ingredients:
Pumpkin - 100 gms
Potato - 2 (medium sized)
Onion - 1 9small0
Green chillies - 2
Turmeric powder - 1/2 tsp
Mustard oil - 2-3 tsp
Salt to taste
Panch phoron (five spices) - 1/2 tsp
Water - 1/2 cup
Directions:
Heat oil in a wok. Add onions and panch phoron (five spices). Saute for 2 minutes.
Add Pumpkin and potatoes. Stir for 30 seconds.Add turmeric powder, salt and chillies. Stir for 2-3 minutes and add 1/2 cup of water for the vegetables to get cooked properly. Serve hot with roti (bread), rice or paratha.