Aloo Masala Toast (vegetable Sandwich, Potato Stuffing)
In Mumbai you get the masala sandwich with vegetables and loads of Chaat masala, but when you ask for masala vegetable sandwich the vendor adds an additional potato filling to the sandwich. This filling tastes great even without the vegetables. Here is a quick recipe of Masala Sandwich.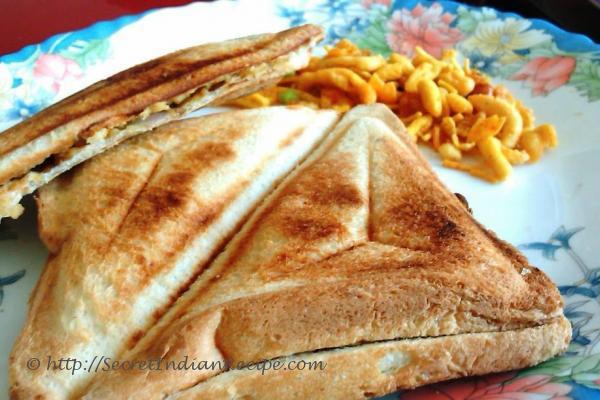 Ingredients:
4 Potatoes Mashed
1 Tbsp Chaat Masala
1 Onion finely chopped
1 Tsp green chilies finely chopped
2 tbsp fresh chopped coriander
Pinch of Garam Masala
2 Tbsp Green Chutney ( See Recipe for green Chutney in the Chutney Recipes section)
4 slices of bread
Salt to taste
Butter to apply on the bread slices
Directions:
In a Bowl mix all the ingredients above except for the butter, green chutney and bread.
Check for seasoning and adjust accordingly
Apply a little chutney and butter on the bread slices. Place 2 Tbsp of the potato mixture between the slices and spread evenly.
Place the sandwich in a griller/ toaster and apply a little butter on top of the sandwich. Cook for 2 minutes and serve hot with Ginger tea