Aloo Matar Paratha (indian Flat Bread Stuffed With Potatoes & Peas)
Yet another paratha recipe I love. Aloo is such a versatile veggie it blends well with almost everything- meat, curries, stir fries etc. I usually make just aloo paratha or just peas paratha, but this time I mixed the aloo and peas together to make this yummy breakfast recipe. Just a slight variation from the regular aloo paratha recipe, but it tastes very different.
This recipe can be made in many ways, one way is to cook potatoes and peas together with masalas and then mash the mixture with a fork or potato masher. Another way, which I prefer is boiling the potatoes separately and then cooking them with peas and other masalas.. The recipe below uses the latter method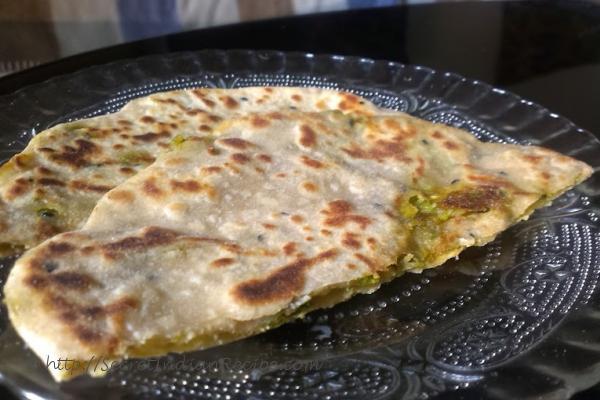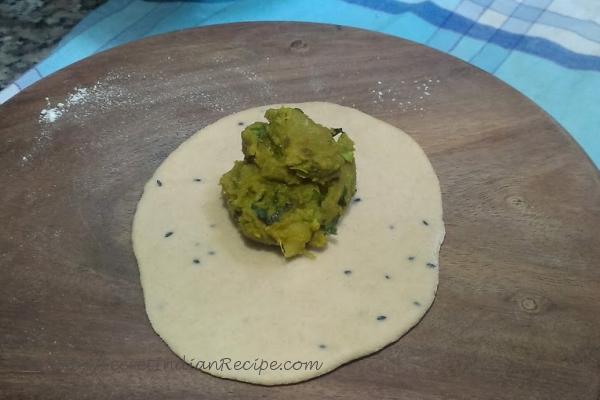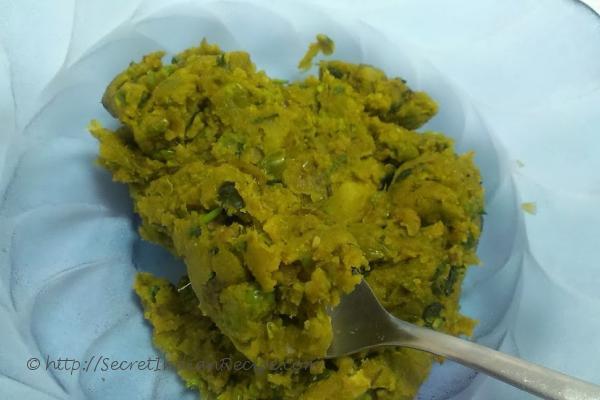 Ingredients:
FOR STUFFING::
Potatoes: 3 (Boiled and Mashed)
Peas: 1 cup
Jeera: 1tsp
Amchur Powder: 1 Tsp
Green Chillies: 2 Finely chopped
Garam Masala: 1/2 tsp
Grated Ginger: 1 Tsp
Dhana Jeera Powder: 1 Tsp
Coriander: 2 tbsp finely chopped
Onions: 1 finely chopped
Salt to taste
Mustard Oil: 2 tbsp
FOR PARATHA DOUGH::
Wheat flour or maida: 2 cups
Veg oil: 1 tsp
Salt: 3 pinches
Ajwain and Kala jeera: 1/2 tsp each
Water: for kneading
Directions:
Grate the boiled potatoes and keep aside
In a kadhai or pan, heat mustard oil. When hot, add jeera, chillies, ginger and mix.
When the raw smell of ginger disappears, add onions and salt to taste. Saute till onions turn slightly pink
Add all powdered masalas except garam masala and mix well. Add the peas, and let the peas, onions and masalas cook covered for 5 mins on low heat. We need the onions and peas to be nice and soft
Check if the peas are cooked. Now add the boiled grated potatoes, add more salt if required. Mix well
Now cook the mixture uncovered for 2 mins on medium heat. Keep stirring as and when required to avoid burning. Add coriander and garam masala and cook for another min.
Remove from heat and let the mixture cool completely. You may check for salt and adjust if required
Till the stuffing cools prepare the dough for parathas. Take flour in a bowl, add ajwain, salt, oil and kala jeera and mix
Using water knead the dough well to a normal roti dough consistency
Make small rounds of the dough. Roll our one portion half way and place one spoonful of the stuffing in the centre.
Bring all edges to the centre and lock the stuffing inside.
Roll out softly do not press while rolling or the stuffing may come out.
Cook the paratha on a tawa, drizzle oil once on both sides while cooking. Cook each paratha for about 2 mins, 1 min on each side or till golden brown
Serve hot with chutney, sauce or curd