Aloo Mater Gutka ( Potato And Green Pea Curry)
A spicy tangy aloo matar is one of the classic Indian curry recipes with a fusion of potato and healthy green peas.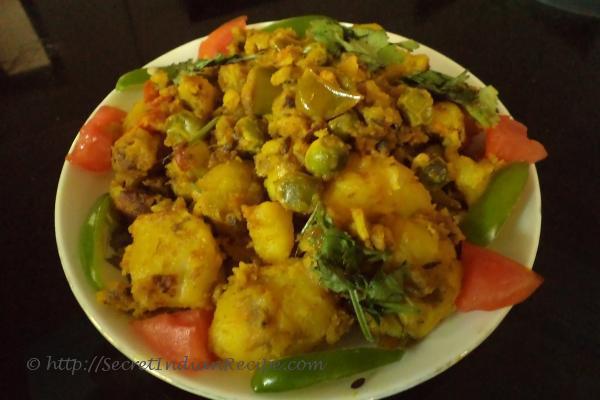 Ingredients:
Green Peas - 1 cup (boiled)
Boiled cubed Potato - 250 gm
Onion, finely chopped - 1 large
Garlic- 8-9 cloves (chopped)
Green Chillies, finely chopped - 4-5 pieces
Ginger paste - 1/5 tbsp
Tomato puree-2 tablespoon
Cumin seeds - 1/5 tbsp
Coriander Powder - 1/6 tbsp
Red Chilli Powder - 1/6 tablespoon
Turmeric Powder - 1/4 tablespoon
Mango powder - 1 tablespoon
Garam masala - 1/6 tablespoon
Salt - to taste
Water - 1 cup
Oil - 2 tablespoon
Directions:
Heat oil in a pan and add cumin seeds in it.
When they begin to fry, add finely chopped onion and saute until onion turns light brown.
Add chopped garlic, chopped green chili and grated ginger, and saute it for few seconds.
Add and mix tomato puree. Stir and cook until oil starts to release from the mixture.
Add cubed potatoes, turmeric powder, red chilli powder, coriander powder, garam masala, mango powder and salt and cook for 5 minutes.
Add green peas and another 1/2 cup water and mix well. wait till it dry up.
Turn off the flame . your dish is ready to be served.