Aloor Chop / Potato Fritters Bengali Style
Aloor Chop is a famous street food of Kolkatta. It is found in any Tele Bhaja shop (Shop which sales fried food) in any corner of the street. It is normally had in the evening with garm... garm.. chai ( hot... hot.... tea) and served with Muri (Puffed Rice).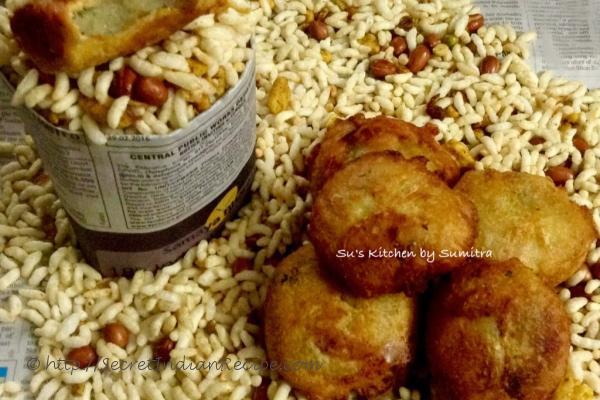 Ingredients:
For Stuffing
2 large Potatoes boiled and mashed
1 tsp Green chillies chopped
1/4 tsp Ginger paste
1 tbsp Bhaja Masala (Roast Cumin seeds, Coriander seeds in equal portion and 1 Red Dry Chilli and ground it)
2 Pinches of Garam Masala
Salt to taste
Few Coriander leaves chopped
For the Batter and frying
1 cup Gram flour (Besan)
1/4 tsp Chilli powder
Salt to taste
2 Pinch of Soda bicarbonate
Oil for frying
Directions:
For the Stuffing Mixed all the ingredients for stuffing together properly.
Divide the mashed potatoes into equal proportions.
Make balls of each portion and flatten it.
Keep it aside while the batter is made.
For Batter and Frying Take a mixing bowl, add all the ingredients for batter, except oil.
Add water little at a time to make a thick batter.
Heat the oil in a wok.
Take the potato chop one at a time, dip it into the batter.
Add the chop into the hot oil and fry till golden brown in colour.
Serve hot with Muri (Puffed Rice)...