Alu Wadi ( A Traditional Maharashtrian Recipe Made With Colocasia Leaves)
Alu Wadi is a savory dish made with colocasia leaves and chick pea flour. A popular maharashtrian dish prepared during special occasions and festivals.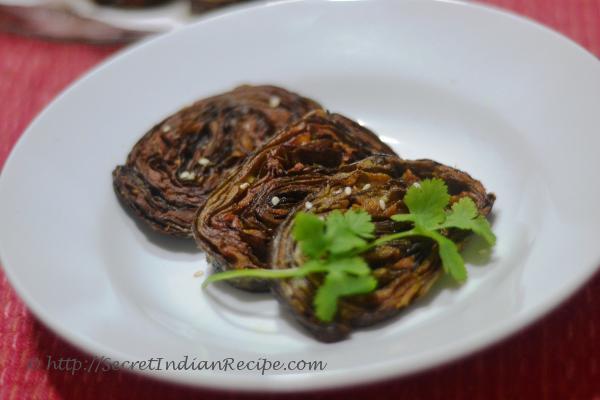 Ingredients:
10 Colocasia Leaves
1 Cup Besan
2 Tsp Dhana Jeera Powder
2 Tsp Red Chili Powder
2 & Half Tbsps Tamrind Puplp
1/2 Cup Jaggery (grated)
2 Tsp Ginger Garlic paste (Optional)
Salt to taste
Directions:
Wash the leaves, remove and cut the stalk from the leaves. Wipe the leaves with a clean and dry cloth
Mix Jaggery and tamarind pulp before hand and leave it for 15-20 minutes
In a bowl take besan and add all dry masalas, add the tamarind- jaggery mixture, ginger garlic paste (optional) and salt to taste mix all ingredients well.
Add a little water from time to time to form a thick batter more like a paste
Spread the leaves on a plain surface, start with the biggest leaf first. Spread the leaf pointed side up and apply a layer of the besan mix, now place the next leaf on top of it with pointed side down and apply another layer of besan.
Continue this with five leaves,start rolling the layers from one end, tuck in the edges along the length when you start rolling and roll like a scroll tightly.
Apply a little besan mixture where the ends meet. The besan acts like a glue to hold ends together.
There may be times when the roll does not hold, in that case use a white cotton thread to tie around the roll to hold it in place
Make two such rolls using five leaves in each roll.
Place the rolls on a steamer and steam cook for 20 to 25 minutes
Remove from steamer and let it cool. Once the roll cools cut it into thin slices.
For people who are health conscious they can enjoy the steamed Alu wadi as it is. For a more festive dish, shallow fry the Alu Wadis in oil till they turn crisp golden brown on both sides
Serve hot on the side or with tea
Footnotes:
For the Gujarati Patra, heat a little oil in pan, add mustard seeds, 1/2 tsp hing and 1/2 tsp sesame seeds when they start to splutter place the steamed Alu wadi and cook till golden brown on both sides.
This is my version of Alu Wadi and Patra