Aluwadi In Coconut Milk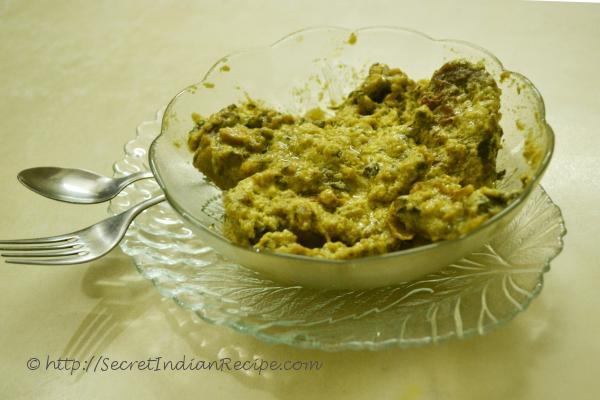 Ingredients:
Alu Wadi Steamed: 1 Roll
Oil or Ghee 1 tbsp
Khada garam masalas (Cloves. Green Cardamom 3 each)
Green chillies 2 chopped
curry leaves few (optional)
Coconut milk thick 4 Tbsp
Coconut milk thin 1/2 cup
Salt to taste
Sugar 1/2 tsp
Red chilli powder 1 tsp
Turmeric powder 1 tsp
Directions:
Slice the steamed alu wadis in thin slices and set aside
Heat oil/ ghee in a kadhai. Add khada garam masala and allow to splutter
Add green chillies & curry leaves
Now add in the alu wadis and lightly mix everything
Add salt, add the dry masalas (turmeric and red chilli powder) and give it a quick mix
now add the thick coconut milk and cover and cook for 3 mins.
Then add in the thin coconut milk, cover and cook on very low heat for 5-10 mins
The curry gets thickened
You may add more thin coconut milk depending on consistency proffered
Adjust salt and add sugar if required as coconut itself is a lot sweeter
Serve hot, garnish with chopped coriander
Footnotes:
This curry can be made using only thin coconut milk too.