Amarapayar Curry (snowpeas Curry)
Amarapayar is one beans that is made quite often in my kitchen. It is my hubby's favourite and we often make stir fries with coconut with this beans. My dad loved this beans a lot too and at home mom made a spicy stir fry of this beans without coconut. I add this to my dal, sambar and I even make rasam with this beans that's how popular this beans is in my family. Today I tried this beans the Andhra style it has tamarind as it tang and therefore goes well with rotis and rice as well. It is quite a simple preparation and if you tone down the spice it can be given to kids.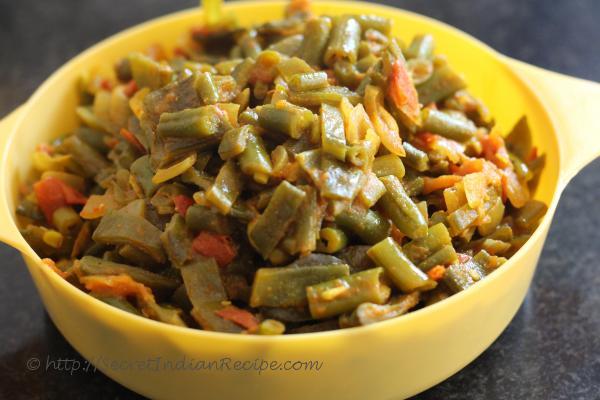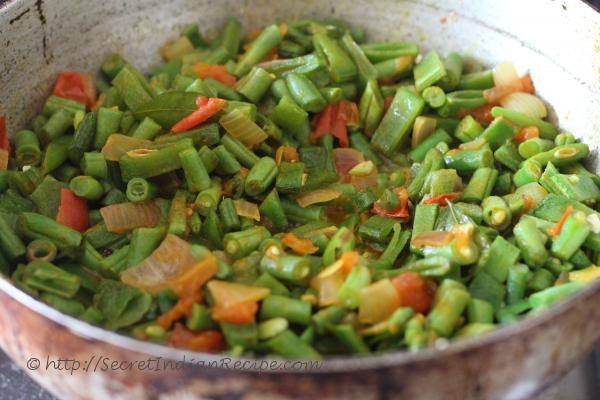 Ingredients:
Amarapayar- 200 g
Onions- 1
Green chilies- 3
Tomatoes-2
Garlic- 8 cloves
Turmeric powder- 1/2 tsp
Chili powder- 1 tsp
Tamarind extract- 2 tsp
Salt- to taste
Oil- 2 tsp
Curry leaves- 6-8 leaves
Directions:
Wash the beans and string them. You can also chop them. Mince the garlic and heat a wok.
Add oil followed by curry leaves when the oil is hot. Now add minced garlic. When the garlic starts to brown add the chopped onions and slit green chilies.
Saute till the onions are soft and translucent. Add the chili powder and turmeric powder. Saute till the raw smell of spice powders go away.
Add the tomatoes and salt and saute till the tomatoes wilt. Now add the beans and cook them covered under a lid for five minutes.
Add the tamarind extract and stir fry the beans till they are dry and free of any liquid. The beans and tomatoes would have released a lot of water this process is to make the beans dry.
This should take around 5-8 minutes and then you can take the beans of the flame. Serve the beans with rice and dal or rotis.