Ambula Alu Jhol (dry Mango Flavored Potato Curry)
Ambula (Dry mango slices) is an Oriya preparation Of drying salted green mangoes under Sun. After drying it can be preserved for at least 4-5 years. It is used to sour the curries. Ambula (dry mango slice) alu jhol tastes little Sour and Spicy and It is cooked without onion and garlic. I learnt it from my Mom.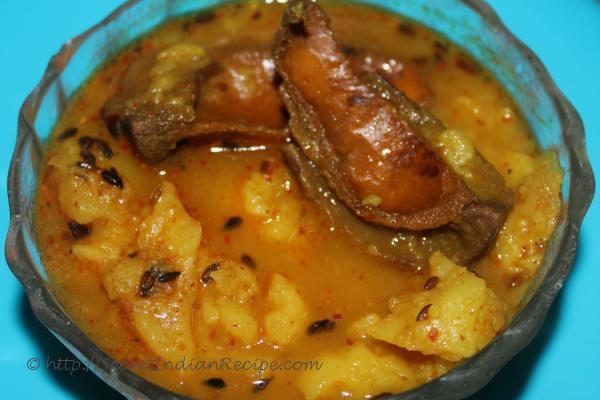 Ingredients:
Potatoes boiled medium 4
Ambula (dry mango Slice) 4 pieces
Jeera (Cumin) 1/2 teaspoon
Haldi (Turmeric powder) 1-2 Pinch
Salt to taste
Water 2 Cups
Cumin with Red Chilli (roasted & grounded) powder 2teaspoon
Oil 2 teaspoon
Directions:
Take 1 cup water in a bowl and mash the boiled potatoes in it.
Heat oil in kadai, Put jeera and let it splutter.
Add the mashed potatoes along with water. Then add haldi, salt, roasted and grounded cumin and red chilli powder and Ambula (Dry Mango Slices) into it.
Cook it for 10 minutes.
Now it is ready to be served with steamed rice.