Ambur Aadu Biryani (ambur Mutton Biryani)
Ambur biryani is one of the most famous biryanis from the state of Tamil Nadu. This small town is known for its leather works as well as biryani. This area is dominated by muslim workers working in the leather industry and perhaps that is how this biryani became famous. It is very different from the biryani we make back home in Kerala. It makes me wonder how so many versions of biryanis exist in the country and we can savour them all equally.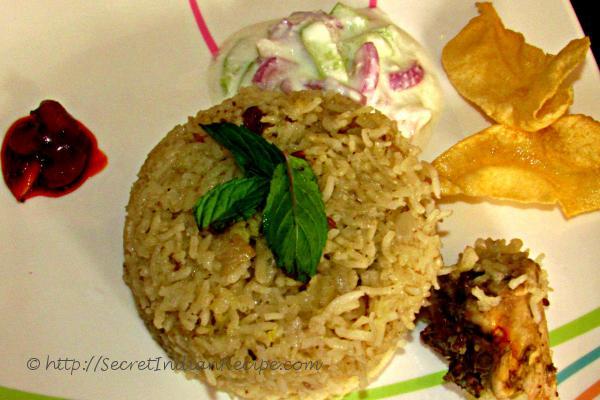 Ingredients:
Mutton- 250 g
Onions- 3
Ginger- garlic paste- 3 tbsp
Tomatoes- 3
Mint leaves- 1 cup
Coriander leaves- 1/2 cup
Green Chilies- 3
Turmeric powder- 1/2 tsp
Chili powder- 2 tsp
Oil- 250 ml
Basmati Rice- 350 g
Whole Spices ( Star anise, Cardamom, Cinnamon, cloves, Pepper, Bay leaf)- 1 each
Lemon- 1
Water- 1/4 cup + 2 and 1/2 cups
Chopped mint- 1 cup
Chopped coriander- 1 cup
Salt- 3 tsp
Directions:
Heat the oil (reserve 2 tsp oil for rice) in a pressure cooker. Add the whole spices first and when they brown add the ginger garlic paste.
Saute the ginger garlic paste for some time and add the curd followed by 2 tsp salt and mutton. Cook the mutton over low flame.
After 5 minutes, add the chopped onion, green chilies and chopped tomatoes.
Saute till the tomatoes get mashed. Now add the turmeric and chili powder and saute for 5 minutes.
Now add the mint and coriander leaves and pressure cook the mutton up to 3 whistles with 1/4 cup water.
In another pot, heat 2 and 1/2 cups of water. Add 1 tsp salt, 2 tsp oil and lemon juice. When the water boils add the rice and cook it for 10 minutes.
Drain the rice in a colander and pour 3 cups of ice cold water over it to stop it from over cooking.
Once the mutton is cooked, take a larger vessel and layer the meat and rice alternatively. Add chopped coriander and mint in between each layer of rice.
Cook the meat and rice together over low fire for 15 minutes. Since the rice is under cooked it will be fully cooked in this period.
You can also heat a tawa and place the biryani vessel on the tawa and slow cook it for 15 minutes.
Serve with raita, papad and pickle
Other Indian Recipes that you may Like !