Ammini Kozhukattai (mini Steamed Rice Dumpling With Seasoning)
Ammini kozhikattai is a special recipe prepared for the Vinayaka chathurthi festival. It is almost common in the south Indian states, especially in the states of Tamil Nadu and Andhra Pradesh.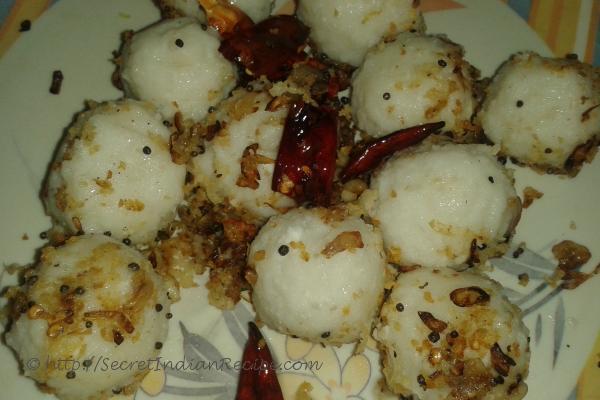 Ingredients:
Rice flour-1cup
Water- 3/4 cup
Salt-as you need
Oil-1 tablespoon
For seasoning
Oil-2 tablespoons
Mustard seeds-1/2 teaspoon
Urad dal (black lentil)-1 teaspoon
Green chilli - 2 nos.
Red chilli - 4 nos.
Curry leaves-2 sprigs
Asafoetida-1 pinch
Grated coconut-1/4 cup
Salt- as you need
Directions:
Switch on the stove.
Boil the water in a vessel.
Then into the boiling water add salt and oil.
Then slowly add rice flour into this water, continuously stirring.
Take care that no lumps are formed.
When it reaches a soft, thick dough consistency, remove it from flame and keep it aside.
When it cools down, knead it with your hands and make small balls with this dough.
Then cook this rice balls in a steamer for about 10-15 minutes.
In another pan, add oil and heat it.
When the oil gets heated, add to it mustard seeds.
When the mustard seeds pop up, add to it urad dal and fry for a minute.
Then add green chilli, red chilli, asafoetida and curry leaves and fry it for another two minutes.
Then add grated coconut and fry it for another 1 minute.
Then add to it the already cooked kozhikatta and mix well.
You can add salt if you want.
Mix well till it is all coated over the kozhikattai.
Turn off the flame and serve hot.
Footnotes:
In some regions, when preparing for home use, small onions are added when seasoning. It adds to the taste of this recipe.