Amritsari Chicken Kofta Curry
I have tried making Amritsari koftas  and love them. In face the recipe I tried was  Sapna's  Amritsari kofta recipe and it came our excellent. I decided to give this recipe a slight meaty twist by adding in some mince chicken instead of Paneer. It came out better than expected! Try it and let me know how it was :)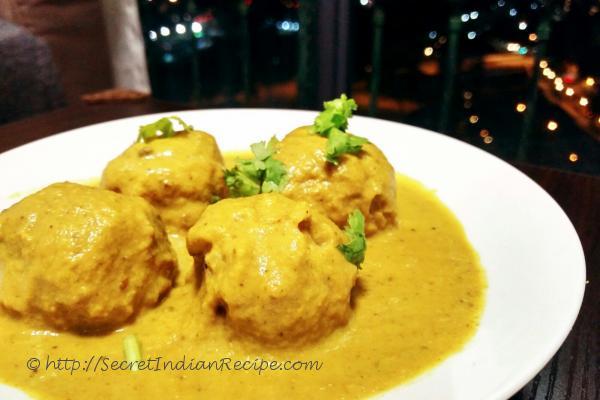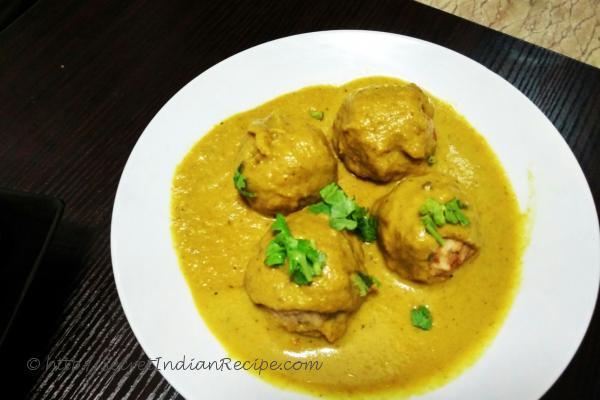 Ingredients:
//FOR KOFTAS//
Mince Chicken : 200 gms
1 big or two medium potatoes boiled and grated
Green chilies : 2nos
Garlic paste : 1/2 tsp
Chopped Coriander : 2 tbsp
Ginger Grated : 1/2 inch
Plain flour/ Maida : 2-3tbsp
Salt to taste
Garam masala 1/2 tbsp
Oil for deep frying
//FOR GRAVY//
Ghee : 3 tbsp for cooking
Black cardamom: 2 nos
Bay leaf : 1
Cloves: 3-4
Green Chilies: 2 nos
Onions sliced : 2
Ginger garlic paste: 1 tsp
Turmeric powder: 1/4 tsp
Cashew nuts : roughly chopped 4-5 nos
Salt to taste
Sugar 1/2 tsp
Fresh Cream: 1/2 cup (100 gms)
Garam masala 1/2 tsp
Coriander chopped: 1 tbsp
Directions:
Mix all ingredients under "For Kofta" in a bowl except for the oil and maida
Mix and knead well to form a soft dough consistency. Make small round portions of the mix and set aside.
The size of the kofta balls can vary depending on your preference.
Heat oil for deep frying. Place the dry maida in a flat plate
Roll each kofta in the dry maida and add to the oil
Deep fry the koftas on medium heat for good 5 mins as the chicken needs to cook thoroughly. If the kofta round is small in size the cooking time may be less
Once the koftas are well cooked and golden brown remove and place on paper towel
For the gravy heat kadhai and add the ghee
when hot add the bay leaf, cloves, green chilies and cardamom. Saute and add onions and ginger garlic paste
Add salt and let the onions turn pink. Add sugar, turmeric power and cashew nuts and saute
When the raw smell from turmeric cooks away, remove from heat and let the mixture cool
Blend the mixture to smooth sauce in a mixer. Add water to help ease with the blending
Add the blended mix to the same kadhai and let it simmer for 1 min
Check seasoning, salt and sugar
Add cream, garam masala and chopped coriander. Remove from heat and add the koftas to this amritsari rich sauce
Serve hot with pulao or rotis