Ananas Sheera ( Pineapple And Sooji Sweet)
This is another wholesome treat that you can have as an evening snack or even breakfast. The way I make it might not be the traditional way. I cannot get myself to tip in the required amount of ghee,that is almost as much as the amount of rava and sugar in the traditional recipe. Instead, I use 2 tbsp of ghee, which is still a lot for me!
My mum would take my sister and I to this udipi restaurant after every open house we had, as a treat for being such awesome girls :D Or so I would like to think :D Though we had many lovely things to tempt us, with out fail, we would order one pineapple sheera each; even though it was way too heavy for any kid to eat. We would look longingly at the plate coming towards us, but half way through, all that ghee and sugar would get the better of us and our mum would let us skip it :) If you knew my mum, you would know this was a big thing!
The restaurant we frequented as children is too far away for me to take little miss to, but I do make this for her from time to time. She likes it. Not as much as me though ;)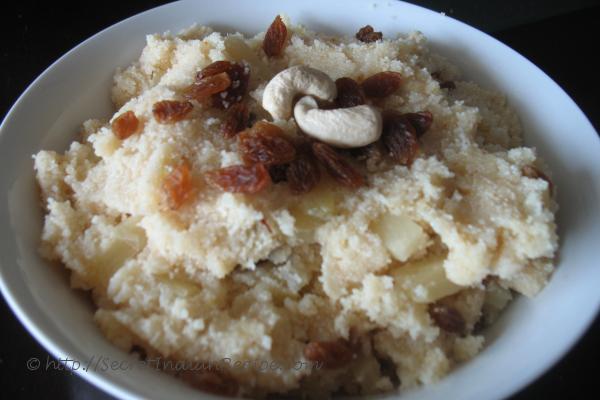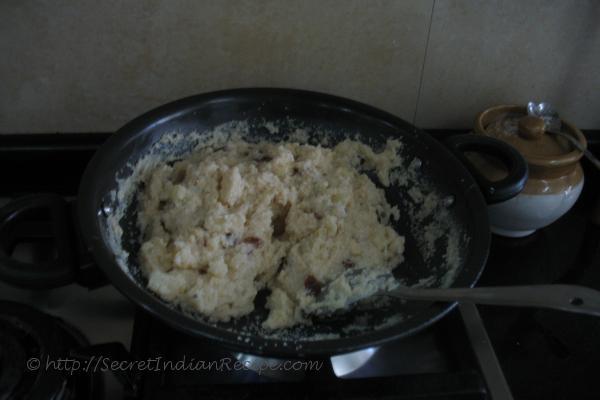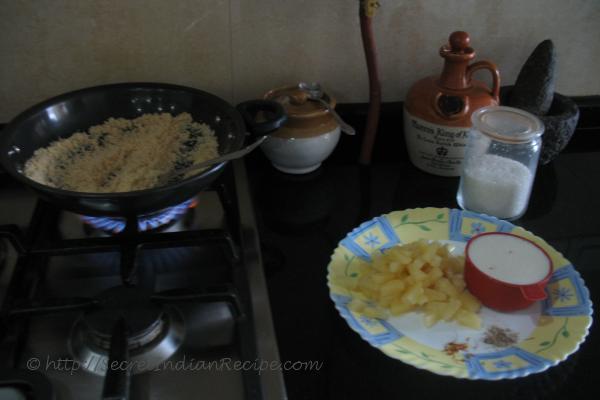 Ingredients:
1 Cup Rava
1 Cup Pineapple, cleaned and cubed (small)
4 Tbsp Sugar
4 Cardamon pods, seeds removed and powdered
2 Cups of Milk
a Few strands of Kesar, soaked in 1 tbsp warm milk
2 Tbsp Ghee
1/4 Cup Raisins and Cashews (optional)
Directions:
After roasting the rava, add ghee and quickly incorporate over a medium flame. It will look like wet sand.
Add the sugar, cardamon powder, optional raisins and cashews and pineapple and stir thoroughly till the pineapple is coated in the rava.
Add the kesar milk to the rest of the milk. Pour the milk in and stir continuously, the sooji will turn viscous and then very thick. Keep Stiring!
As and when the sheera reaches the consistency you desire, switch off the gas and transfer to a bowl. Wait for it to cool a bit (if you can )
Enjoy!