Anda Bhurji (egg Bhurji/ Indian Scrambled Eggs)
Egg bhurji push carts are famous in Mumbai and other cities. These carts cater to the late night call centre workers or post party hunger pangs. This Indian Scrambled egg dish fills you up and is very easy to cook.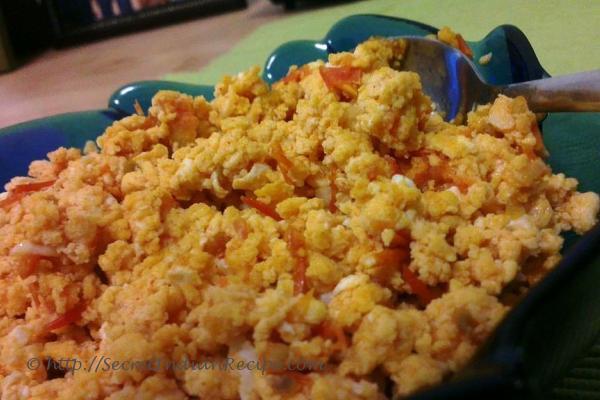 Ingredients:
6 Eggs
2 Onions finely chopped
2 Tomatoes finely chopped
3 green chilies or as per taste
1 Tsp finely chopped ginger
1 Tsp Haldi (Turmeric powder)
1 Tbsp butter
Salt to taste
1 tbsp Oil
1 Tbsp chopped coriander leaves
Chaat masala/ Pav Bhaji Masala (optional)
Directions:
Whisk the eggs and set aside. In a deep pan or wok take oil, when hot add the ginger, green chilies, onions and stir till onions turn golden brown
Add tomatoes, salt, haldi and give it a quick mix. Let this masala look till tomatoes are cooked through and are completely softened
Add the eggs and stir vigorously to scramble the eggs and incorporate with the masala. Let eggs cook till well done
Garnish with coriander. Serve hot with bread, pav or roti
Footnotes:
Add the Chaat masala or the pav bhaji masala when you add haldi to give a more masaledar (spicy) taste
Other Indian Recipes that you may Like !