Anda Omlette Tarkar I(egg Omlette Curry)
Eggs are one of the most complete and excellent source of protein for adults and children alike. Eggs are rich in vitamins, minerals, calcium, zinc and iron. Egg curry is a very common recipe throughout India. I tried to cook it differently. Egg Omlette tastes delicious in ginger garlic gravy...!!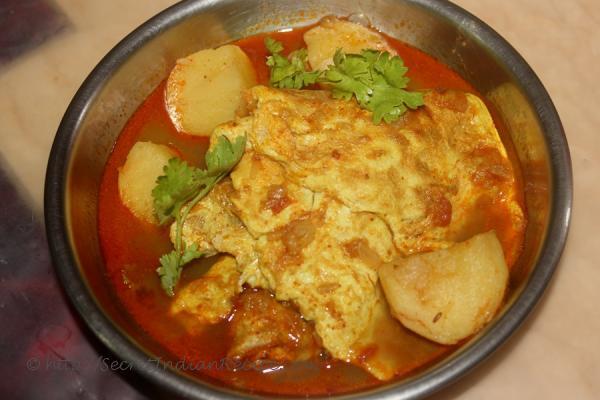 Ingredients:
Eggs 4 pieces
Potatoes 2 pieces (boiled and cut in 4 equal halves)
For Omlette : onions 2 pieces (chopped )
For Curry : onions 3 pieces(chopped)
Ginger garlic paste 4 tablespoon
Turmeric powder 1/2teaspoon
Kashmiri lal mirch powder 2teaspoon
Coriander powder 1/2teaspoon
Cumin powder 1/2teaspoon
Red chilli powder 1/2 teaspoon
Green chilli 2 pieces (chopped)
Tomato 1 piece (chopped)
Salt to taste
Ricebran oil 7-8 tablespoon
Coriander leaves Finely chopped
water 1 cup
Directions:
For Omlettes :
Whisk each egg with 2 tablespoon chopped onion, chopped green chilies and required salt.
Heat 1 tablespoon oil in a pan and pour the mixture. Cook 2-3 minutes over low heat till mixture is firm and flip it.
Fry the other side till turns light brown. Now Omlette is ready, remove from the pan and keep aside. Repeat the same for rest eggs.
For Curry : Heat 3-4 tablespoon oil in pan, add chopped onions, fry till they turn slightly brown.
Add ginger garlic paste, kashmiri lal mirch powder, red chili powder, turmeric powder, coriander powder, cumin powder and little water, stir it.
Add chopped tomatoes into it, cook till it softens and oil separates out.
Add potatoes and salt to it and stir it for 5 minutes.
Now add 1 cup of water, Cover the lid allow it to boil till gravy becomes thick.
Now add the egg Omelet into the gravy, allow to boil for more 5 minutes.
Now its ready, garnish with freshly chopped coriander leaves.
It can be served hot with rice , roti .
Other Indian Recipes that you may Like !