Ande Aur Matar Ki Gughni (egg In Greenpea Curry)
It is a breakfast recipe, which is specially cooked in winter in my house. Although Kolkata winter is not so chilly but sometimes even if the temperature goes below 12, it is cold for us. Living in Kolkata, I guess I have also acquired a liking for eggs like most of the Bengalise. If you ask any Bengali to close his eyes and tell you the most nutritious food, he or she will instantly say it is fish and then... eggs. I must say Bengalise are probably the most health conscious community in India and they have eggs daily for breakfast. Egg is rich in protein, and thus provides complete energy to start the day. My family does not like to eat boiled eggs everyday so I sometimes I cook this Ande aur matar ki Gughni. In this recipe, I use green coriander base along with green peas and boiled eggs to make it a wholesome diet. The usage of green coriander gives it a secret taste.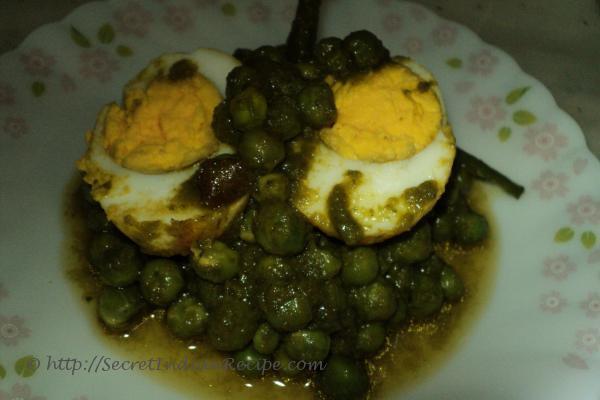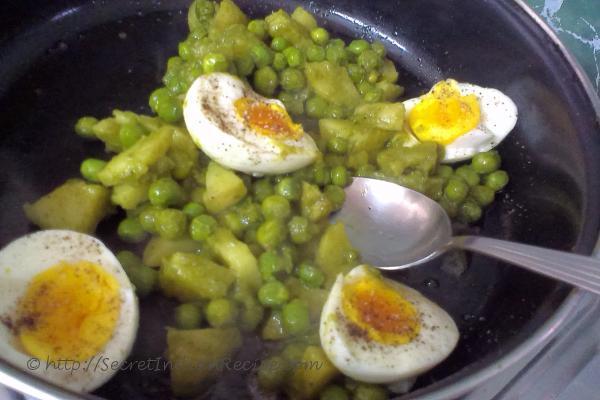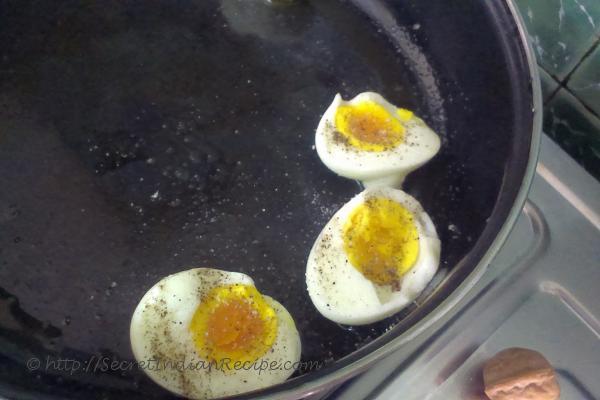 Ingredients:
Boiled Egg 4 pieces
Hare matar (green peas) 250 grams (9 ounce)
Coriander leaves 25 grams (1 ounce)
Garlic 5-6 cloves (one can use green garlic if available)
Onion 1 onion
Green chillies 2 pieces
Salt 1/2 tablespoon
Mustard oil 4 tablespoon
Directions:
Peel the matar and take out the green peas.
For cuury paste grind coriander leaves, greenchillies, garlic and onion together to form a paste.
Heat mustard oil in a karahi and shallow fry the eggs. Once done, take out the eggs.
Put the masala paste in the remaining oil. Add salt and green pea and mix well. Sauté the paste for about 5 mintues on low flame and then put the lid on. Cook on low flame for 5-7 mintues. Check if the peas are done. Then add the boiled eggs and serve hot with chappati.
Footnotes:
You can sprinkle some salt and black pepper powder while frying the eggs.