Ande Ka Halwa (egg Sweet Dessert)
Does this recipe sound weird to you? As Indians we are habituated to cook savoury recipes using egg. The closest sweet dish that we can imagine using egg as ingredients is Cakes and Pastries. I still remember the day. I was in 9th Standard and the Principal called me and two of my classmates to plan for the farewell party for our seniors. I was pretty good in planning small plays so she wanted me to prepare one for the seniors. I went back home and started searching for a good story. Then I found this interesting story of " Ande ka Halwa' in one of my cousins' school book. It was a story of a Vegetarian family, where everybody used to eat non- vegetarian food secretly but used to eat pure vegetarian inside the house. One day the youngest daughter in law cooks this 'Ande ka Halwa' at home and the entire family tries to hide it from one another. I enacted this play with my classmates and all my teachers praised me. After this I never discussed it with anybody. Yesterday, I came across this recipe of " Ande ka Halwa' in a local newspaper under " Ramzan Special food''. ' Ande ka halwa' is no doubt a protein rich dessert but even after reading it, I was a little skeptical to try this. Today I shed my inhibition and cooked it…..and I can say it taste awesome.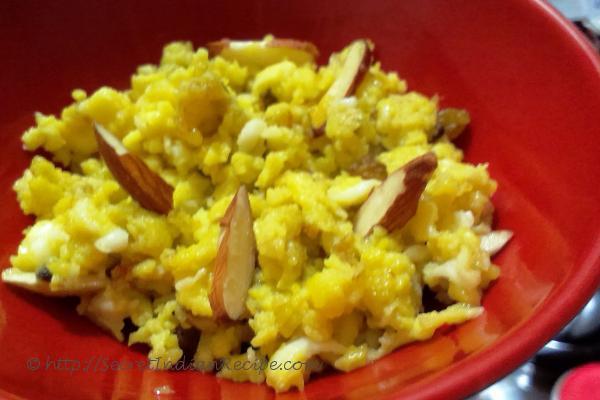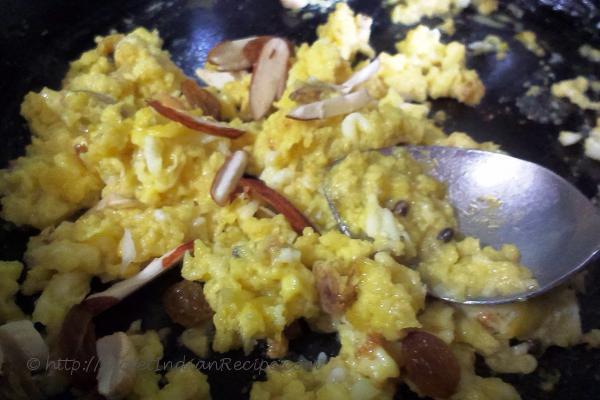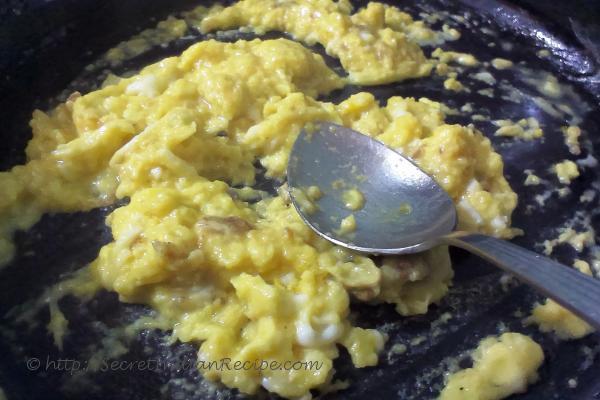 Ingredients:
Ande (Eggs) – 4
Milk – ½ cup
Sugar – 3 tablespoon
Green Cardamom – 1 crushed
Almonds, Cashew, Raisins - few chopped
Ghee – 1 and 1/2 tablespoon
Directions:
Break the eggs and keep in a bowl. Add milk and sugar and whisk till the sugar dissolves completely.
Heat ghee in a pan on low flame and when heated, pour the egg mixture. Cook on low flame till it starts solidifying. This will take approximately 5-6 mintues.
Once the eggs are cooked properly and you can smell the aroma of ghee and cardamom…..it will not smell eggy anymore….add chopped Almonds, Cashews and Raisins and switch off the gas.
Taste better when served warm.
Footnotes:
You can add some saffron, for taste and flavour