Andhra Cuisine : Idli Sambhar
Famous Breakfast from South Indian Origin.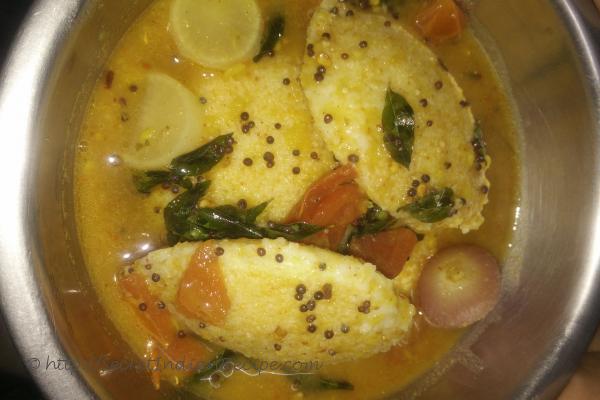 Ingredients:
Curry leaves
Oil
Urad dal
Toordal
Cumin seeds
Mustard seeds
Raddish 1
Bottle guard 1/4 slice
Onions 2 small
Tomatoes 2 large
Salt
Chilli powder
Turmeric poweder
Red chillies
Chana dal
Directions:
Receipe for Sambhar Powder : Heating up ingredients on a frying pan without oil, making sambar powder by dry roasting is a quick way to create a more mild flavoured version of the powder.The ingredients are red chillies,curry leaves,coriander seeds dry,1/2 teaspoon of jeera, 2 peices of coconut,channa dal,urad dal,black pepper,hing powder and a pinch of rice so that the mixture becomes little thick.
Preparation of Sambhar : Cook the Toor dal for 15 minutes. Meanwhile cut all vegetables in to medium pieces. Put all these vegetables in the dal which is already cooked . Add salt,chilli powder :1 spoon, Sambar powder which is grinded, 1/2 teaspoon of turmeric, juice from tamarind. Mix everything properly and put the cooker for 1 whistle .Remove the Sambhar in a Bowl and after that put the tadka with cumin seeds,urad dal,channa dal,curry leaves,red chilles,mustard seeds. The Sambhar is ready to be served. This Sambhar can be served with Idli, Dosa , Vada, Upma.Depending upon the requirements.