Andhra Style Dosa With Groundnut Chutney
Dosa is a type of pancake made from a fermented batter.Dosa is a typical part of the South Indian diet and popular all over the Indian subcontinent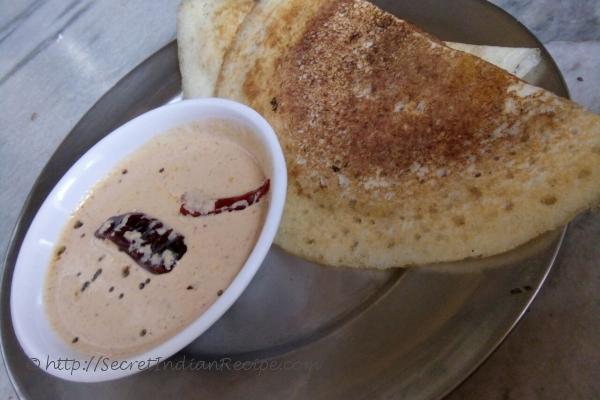 Ingredients:
1 cup raw peanuts
2 tablespoons oil
5 whole dry red chilies
1/2 teaspoon mustard seeds
1 tablespoon sesame seeds
1/4 teaspoon hing
10 curry leaves
Salt and Tamarind as per the taste and requirement
1 cup of water
1 glass of Urad Dal For Dosa
3 cups of Rice
little methi seeds
Directions:
Heat the oil over medium heat. Add mustard seeds, red chilies Sesame seeds, hing and keep it aside. Take peanuts and fry them for about 2 minutes until it turns into brown and the skin is very well removed . Once the skin is removed then take a mixie bowl and add groundnuts and add the above ingridents (jeera, 4 red chilies and Sesame seeds) , 4 pieces of garlic and tamarind and salt as per the taste and requirement. Take out 4 red chilies,mustard seeds,and curry leaves and set aside.Add one cup of water. Grind the peanut mixture to a smooth but not make it paste.Check the salt and add more if required. Then add the tadka of mustard seeds, 4 red chillies and curry leaves.
Footnotes:
Receipe for Dosa : Soak 1 glass of urad dal with 3 cups of Rice. Add little methi seeds so that we can make crispy dosa. Soak around 7 to 8 hours. Grind the batter in the night and add salt for the taste. The overnight batter will give best crispy dosa .