Andhra Tomato Chutney
One of the Best Lip smacking Authentic Chutney you can prepare. Pure Andhra Style and a quick way of going back in times.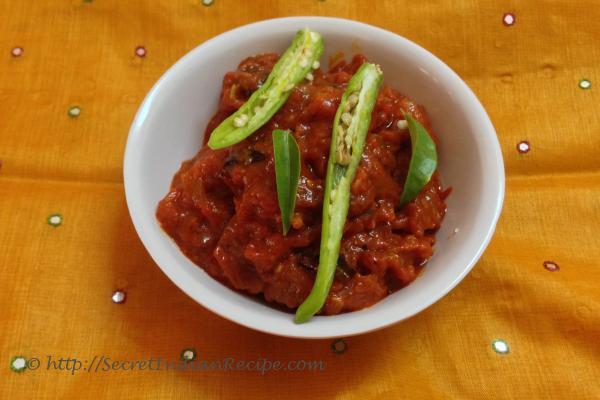 Ingredients:
Ripe Tomatoes- 250 gms
Tamarind ( deseeded ) - 25 gms
Refined Oil - 50 to 75 gms
Fenugreek Powder ( fry whole and grind for freshness ) - Half Teaspoon
Red Chilli Powder - 3 small Spoons
Dry Red Chillies -2 to 3
Mustard Seeds - 1 small Table Spoon
Asfetodia - 2 pinch
Fresh Curry Leaves and Green Chillies for garnishing
Directions:
Wash and Clean the Ripe Tomatoes. Dry them using a towel.
Cut the tomatoes into small pieces and keep aside
Take a saucepan. Put the Oil. When the oil is hot, put the tomato pieces
Keep stirring continuously till the tomatoes are cooked and the oil separates
Put Tamarind/ Chilli powder and Fenugreek powder and saute for a 2-5 minutes and close
Keep the mixture aside to cool
Grind the above mixture to a thick consistency
For tempering - Take 2-3 table spoons of oil. Heat the Oil in a small pan. Once the oil is hot put the Mustard seeds. Wait for the Mustard seeds to splutter. Add Dry Red Chilli,Asfetodia and Curry leaves and fry for 15-20 seconds in the oil on low flame. Take care that the mixture does not burn. Remove and add the mixture to the Chutney. Mix well
Take the mixture, put it in a dressing bowl and garnish with curry leaves and green chillies. Optional
Serve best along with steamed rice and ghee. Really quick and tasty chutney ready in minutes
Footnotes:
Your feedback and suggestions welcome on asrao49@yahoo.com