Antinunde (edible Gum Ladoo)
Breast feeding mothers need extra calories. To increase nutrition and calorific value of the mother's meal as well as making sure that the food contains no potential irritants is an ordeal in itself.
Antinunde is one such dish from Karnataka. Consuming this rich food is supposed to strengthen back, aid recovery as well as help augment milk supply.
I vouch of the potency of the food myself.It is simple to make and delicious to consume. It is also given to children when they attain puberty.
Believed to build strong bones and increase blood circulation, these laddoos are yummy treat for children at any age.
In this modern age when our kids are prone to fast foods, this simple recipe adds to the missing nutrition's that they require. These laddoos can be preserved for 15-20days and consumed at any part of the day.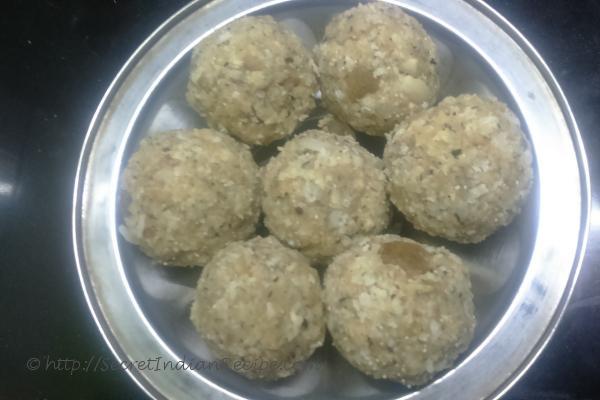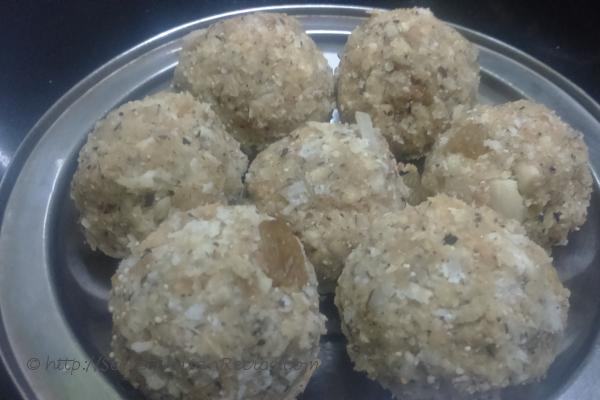 Ingredients:
A] Laddu mixture:
1. Dry Dates powder-250g
2. Dry coconut flakes-250g
3. Edible Gum-25g (can increase the quantity if you like)
4. Dry fruits - rasins, cashewnuts, almonds, pista (any of your choice)
5. Poppy seeds - 10g
6. Ghee- 1 cup
7. Cloves -4, Cardamom -4
b] Syprup:
1. Jaggery-300g
2. water -1/2 cup
Directions:
1. Shred dry cocount to small flakes or you can buy Dry coconut flakes from stores.
2. To prepare dry dates powder -- take dry dates, remove seeds from them and crush\grind them.
3. Dry roast poppy seeds in a frying pan for 2mins on medium flame.
4. Deep fry gum in 4 tbsp of ghee till they are light and puff up and keep aside.
5. Add a little ghee and roast dry fruits one by one(if you like fresh taste of dry fruits then you can add them directly).
6. Grind Cloves , Cardamom to fine powder.
7. Now add all these in a big mixing bowl and mix them well.
8. In a pan add water and Jaggery and start melting to make a syrup (approx time: around 5-10mins).
9. Most important part of the recipe is to make Jaggery syrup of right consistency – thread consistency.
10. Pour the syrup slowly to the laddu mixture and simultaneously mix everything properly.
11. Take small amount of this mixture and tightly press it on the palm to form small balls/ladoos.