Appler Jilipi (fried Apple Dipped In Sugar Syrup)
It is a very delicious sweet dish. It is also known as "appler ras bhaja". First time I tasted this dish in my choto pishimoni's (aunt's) home. She told me that she learnt to make this from her mother in law. When I was a kid I liked it so much. This dish reminds me of those summer vacations when I used to visit my pishimoni's home. My pishimoni always used to make this for me.
It is very easy to make this dish. You can make this in the special occasions like Holi, Diwali, Bijaya Dashami etc.
Before I start telling you the recipe, I want to share with you some of the benifits of eating apples. It helps to get whiter and healthier teeth,decrease risk of diabetes, reduce cholesterol. It also helps to get healthier heart and beat constipation. So we may say that an apple a day keeps the doctor away.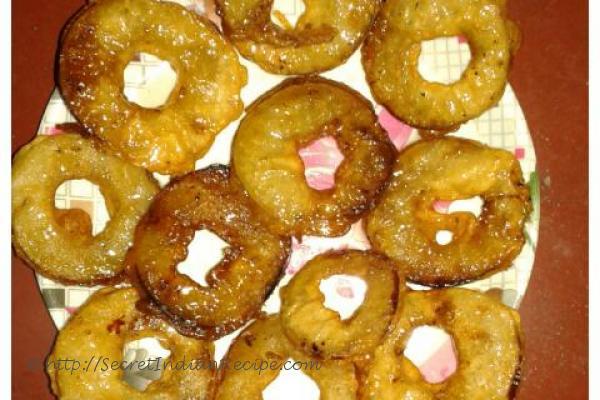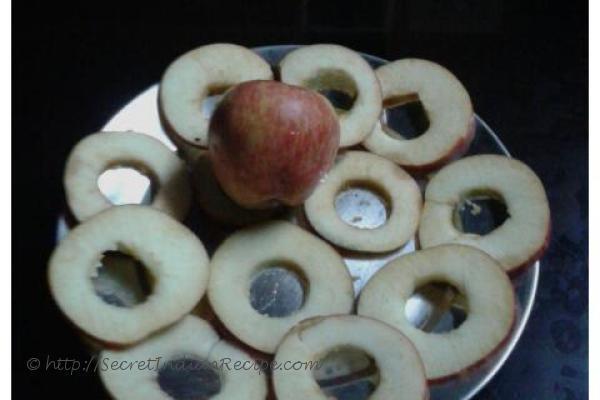 Ingredients:
Apple -1 (big size )
Sugar -1cup
Cardamom -4
Refined flour -4 tablespoons
Samolina 2tablespoons
Rice flour -2tablespoons
Salt -2 pinches
Oil - for frying
Directions:
At first make the syrup. For this you'll have to combine sugar with 1cup of water in a pan. Boil on a medium flame for 8-10 minutes or till the sugar dissolves completely. The syrup should be of 1 thread consistency. Then add the cardamom and cook for 2 minutes more on low flame .
Make thin slices from an apple. Now make a small round hole in the middle of each slice.
Combine samolina, flour, salt and rice flour. Add required amount of water to make a semi thick batter.
Heat the oil. Dip each slice carefully in the batter. Deep fry in the oil in medium flame.
Now dip it inside the syrup. Keep each slice inside the syrup for 1 minute.
Then take them out in a plate.
Footnotes:
Tastes better while served hot.