Arhar Dal (pigeon Peas Spilt And Skinned)
Arhar dal is the most common lentil cooked in Indian household.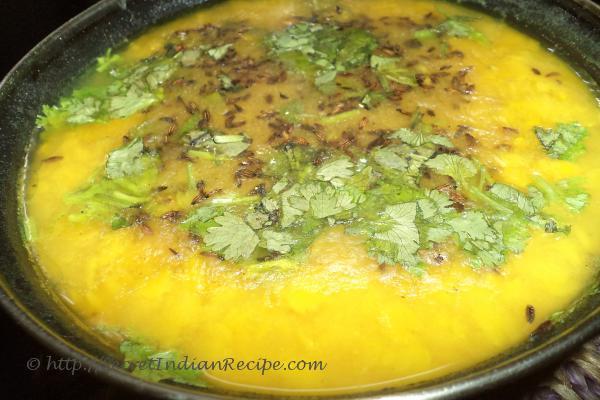 Ingredients:
Pigeon peas - 200 gm
Turmeric powder - 1/4 tablespoon
Cumin seeds - 1/2 tablespoon
Asafoetida powder - 1 pinch
Salt - to taste
Refined oil - 2 tablespoon
Green coriander(chopped) - 1 table spoon
Chopped garlic - 1/2 tablespoon
Green chili (chopped) - 1/2 table spoon
Directions:
Take 200 gm pigeon peas into a bowl , clean it with water at least 3 times .
Now put cleaned pigeon peas into a pressure cooker ,pour about 600 ml water to it.
add salt and turmeric powder and cover it with lid, wait till two whistles.
Now close the flame ,wait till the hot air in the cooker gets out .
Take a deep pan and heat oil .Add asafoetida and cumin seeds wait till it gets brown. Add garlic and green chillies and wait till the garlic turn light brown.
Tamper the cooked pigeon peas with this tarka and mix well.
and garnish it with coriander leaves . your dish is ready to be serve.