Arvi Lobia Ki Sabzi (colocasia Cooked With Black Eyed Peas)
I am on a vegetarian diet ever since we returned from Ooty. I have started to rummage for leftovers in my pantry and cook up a storm. I often end up throwing a lot of my stocked up beans because half of our diet is predominantly non-vegetarian. But with the veg phase I am doing justice to the veggies like never before. Hence came up the lobia and arvi sabzi after a long time. We don't cook arvi a lot so I had a bag lying for 2 weeks. And this tuber does not dry fast. You can always depend on them for emergencies. This curry gets a gooey thick texture from the arvi and mashed lobia and they therefore make a great curry for rotis.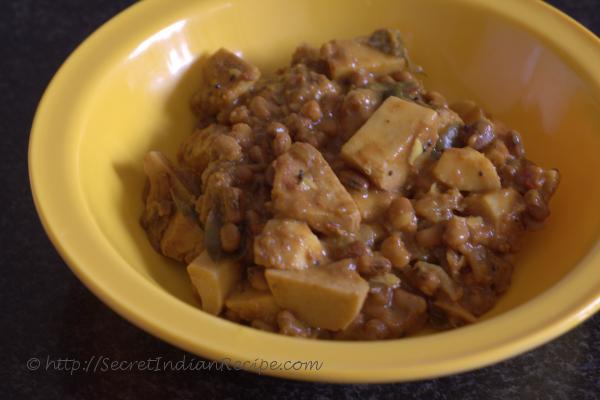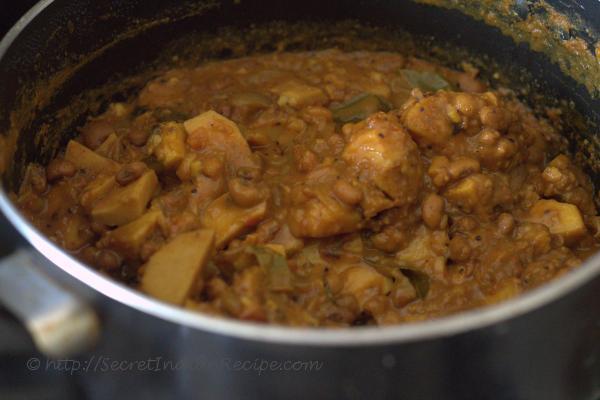 Ingredients:
Colocasia- 250 g
Red cowpea beans- 150 g
Onions- 2
Tomatoes-2
Ginger-garlic paste- 2 tsp
Green Chilies-4
Turmeric Powder- 1/2 tsp
Salt- to taste
Coriander powder- 1 tbsp
Cumin seeds- 1 tsp
Curry leaves- 5-6
Oil- 3 tsp
Directions:
Soak the red cowpea overnight and pressure-cook it to 2 whistles with 2 cups of water.
Peel the arvi and chop them into halves. Boil them with 2 cups of water and a pinch of salt.
Drain the arvi when they are half cooked. Note that you don't overcook them to a mushy consistency.
Heat oil in a wok, and cumin seeds. When the cumin crackles, add chopped onions and curry leaves.
When the onions soften, add ginger-garlic paste and slit green chilies.
Saute till the ginger-garlic paste browns. Ad turmeric powder and salt after this and saute for 2-3 minutes.
Now add the cooked arvi and lobia to this masala and cook them together covered for 5 minutes.
Puree the tomatoes and add them to the curry after 5 minutes. Cook the curry with the tomato puree for 5-8 minutes.
Add 1/4 cup water and bring the curry to a final simmer. Let it simmer for 5 minutes and then switch off the flame.
Serve with rice or rotis.