Aujhi (rice Cooked With Gourd And Milk)
Aujhi is a vegetarian meal recipe from uttarpradesh. Here rice is cooked with gourd and milk. Gourd is known for its cooling effect and thus is suitable for everybody. Gourd has lot of antioxidants and since it has milk so it is a complete meal in itself, comprising of carbohydrate, protein and vegetable fibre.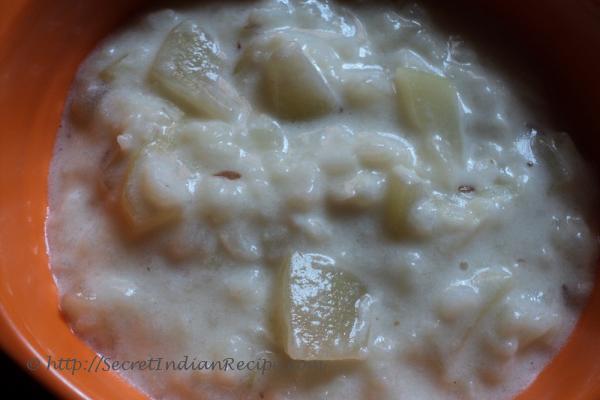 Ingredients:
Rice 100 grams (5.5 ounce)
Gourd 100 grams (5.5 ounce, cut in small pieces)
Zeera( cumin seeds) ¼ tablespoon
Whole red chilli 1 piece
Ghee 1/2 tablespoon
Refined oil 1 tablespoon
Salt 1 tablespoon
Milk 1 cup
Directions:
Heat ghee and oil together in a pressure cooker and add cumin seeds and whole red chilli, once it start popping add gourd. Mix well and cook upto 3 whistle. Open the lid.
Pour the entire thing in a wide bottom pan and add rice ans salt. Mix well and then add about 1 cup of water. Cook on low flame till the rice is halfdone.
Finally add the milk and let it simmer till the rice is cooked and the required consistency is reached. Serve hot with aloo bhujia and papad.