Avarekai Curry (val Beans/hyacinth Beans Curry)
I get very excited when I meet someone from a different culture who teaches me their recipes in the authentic style. My maid Bhagya comes from an agrarian family in Karnataka. She loves gardening though I never compel her to do anything in the garden. She also knows my love for cooking and shares ever produce from her farm. Recently she introduced me to avarekai also known as avarai. These beans resemble lima beans and are harvested in the months of October- December in Karnataka. In fact the harvest of this bean is a celebration here in Karnataka. There is an exclusive fest held for these beans where farmers bring their produce and sell just these beans in one market. It is a sight to watch all the farmers travel from nearby villages on their tractors and mopeds for this mega sale.I got my share of avarekai from Bhagya and had to clean them fighting a ton load of worms (because Bhagya's family does not use pesticides). You also need to soak these beans in water and take them out of their covering before cooking them. Avarekai is cooked as stir fry, sambar, in meat masala or even as a snack. This recipe is a simple curry to accompany rotis.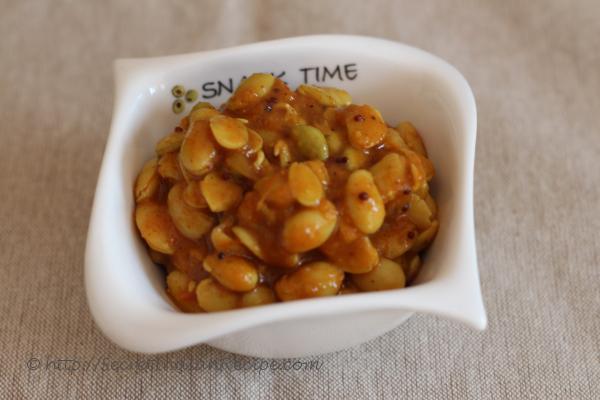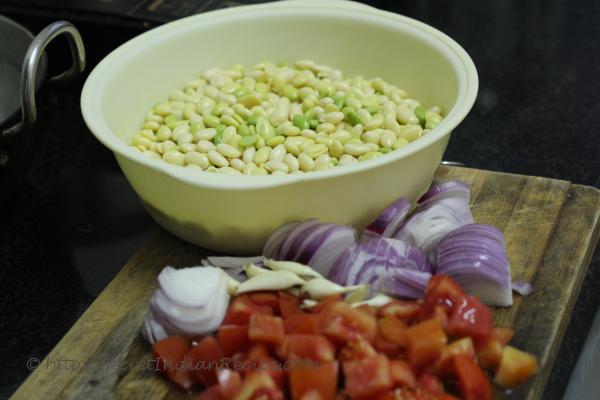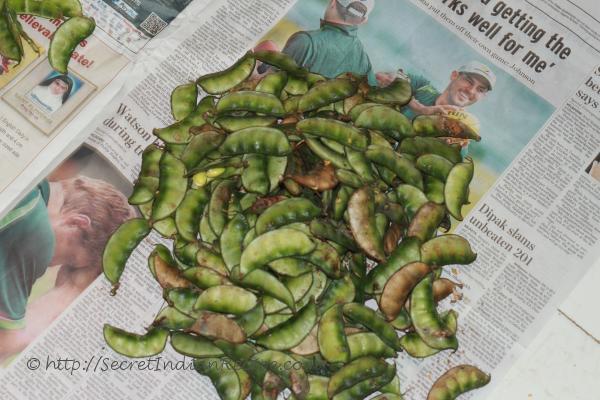 Ingredients:
Avarekai- 250 g
Onion- 1
Green chilies- 4
Garlic- 6-8 cloves
Chili powder- 1 tsp
Turmeric powder- 1/2 tsp
Tomatoes- 2
Salt- to taste
Curry leaves- 2 sprigs
Oil- 2 tsp
Mustard seeds- 1 tsp
Water- 2 cups
Directions:
To clean the avarekai first remove the seeds from the pod like you do with peas. Please be careful to avoid worms you will find lots of it.
Soak the avarekai seeds in a bowl with water till it covers the avarekai seeds completely. After 1 hour the seeds would have softened remove the outer cover of the seeds and set them in a bowl.
Even if you omit this step of removing the outer cover of the seed it is fine but if you have time and patience it is advisable that you do this.
Heat oil in a pan and add the mustard seeds and curry leaves. Once the mustard splutters add the finely chopped onions and saute the onions till they soften.
Add the green chilies slit into two along with minced garlic and saute them for 3 minutes. Now add the turmeric and chili powder and saute for 3-4 minutes over low flame.
Add the diced tomatoes now along with salt and saute till the ingredients form into a gravy. Add 1 cup water now and bring the gravy to boil.
Add the avarekai and cover the pan with a lid. Cook the avarekai over low flame for 10 minutes.
Add the remaining water now and cook the avarekai again for 10 minutes. Before switching off the flame the gravy should have reduced to half and become thicker.
These beans will be stiff and will not mash but they would be cooked by now. So switch off the flame and serve this curry with rice or roti.
Footnotes:
Do not pressure cook these beans they will get mashed, they taste better when you can bite into them.
Once you take them out of their pods you can cook avarekai directly without soaking them as well.