Avarekalu Akki Tari Uppittu/ Broken Rice Upma.
Here is one of my favorite breakfast foods made from avarekai.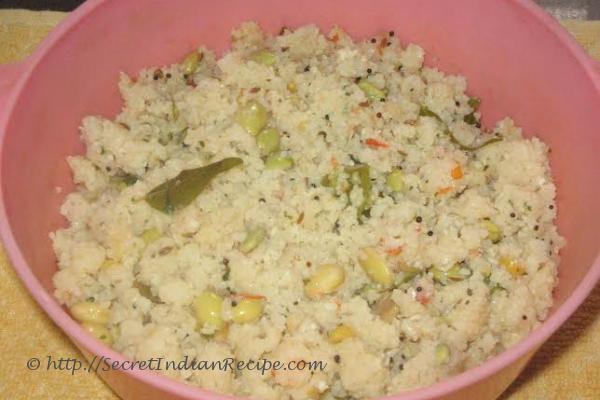 Ingredients:
Broken Rice Rawa -1 cup.
Tender Hyacinth beans(avarekalu) -1 cup.
Mustard seeds-1/2 tablespoon
Chana dal-1 tablespoon
Urad dal - l1tablespoon
Green chillies - 3 to 4 chopped into small pieces.
Menasinakai Balaka (Fried Chillies) – 2 nos.
Ginger - 1 inch finely chopped.
Cumin seeds - ½ tablespoon
Peppercorns - ½ tablespoon
curry leaves - 2 sprigs.
Fresh Coconut. - 1/4 grated
Coriander leaves finely chopped - 3 tablespoon
2 cups Water.
2 tbsp Oil.
1 tbsp Ghee.
Asafoetida- 1pinch.
Salt to taste.
Directions:
Pressure cook the(avarekalu) tender hyacinth beans for 3-4 whistles with salt until they are cooked.Drain them and keep them aside.
Heat 1 tbsp oil on a kadai and roast rice rawa for 3-4 mins on medium flame until the raw smell of the rawa goes and gives out a good aroma.
Heat remaining oil in a thick bottomed vessel and crackle mustard seeds and cumin seeds.
Add chana dal,urad dal and fry until they turn light brown in color.
Add green chillies,cumin seeds,Fried Chillies,curry leaves,pepper corns,asafoetida and fry for 2 mins.
Add cooked and drained hyacinth beans to it and fry well.
Add 2 cups of water and cover it with lid and let it come to a boil.
Add enough salt and roasted rice rava and stir it nicely and cover it and cook for 5-7 mins until the water is absorbed.
Add grated coconut and coriander leaves at the end and give a nice stir.
Serve it hot with Lemon Pickle /Mango Thokku /chutney pudi.
Footnotes:
Menasinakai Balaka is sun dried stuffed green chillies.
You can follow the same recipe and replace rice rawa with normal soji or bansi rawa and make regular upma.You can increase the water quantity to 2 1/2 cups if you want a soft upma.
Broken Rice Upma takes longer to cook than the regular Rava Upma & it needs more water too.Every cup of broken rice needs a little more than 2 cups of water to cook completely.