Avil Vilayichathu (sweetened Beaten Rice Flakes With Jaggery)
I don't think I need to explain to all my malayalee friends, what avil vilayichathu is. Yes, most of us love this delicious recipe. However, for those who are not familiar with this I will explain. This recipe is known as the dessert of the Gods as it is served on all religious occasions as an offering to the God.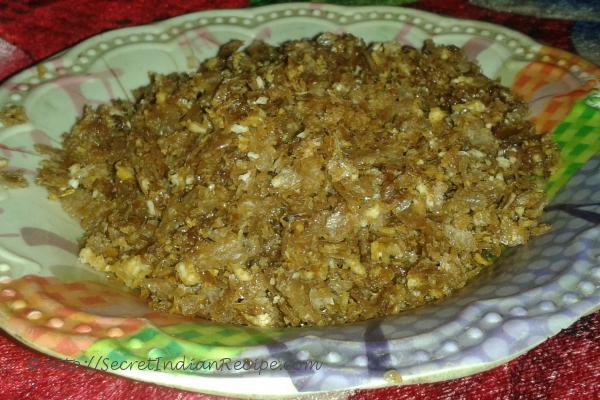 Ingredients:
Avil/beaten rice flakes-2cup
Grated Jaggery-1cup
Grated coconut-1 cup
Cardamom -2 crushed
Black sesame seeds-1 teaspoon
Dry ginger powder-1/4 teaspoon
Chana dal/split chick pea-2 tablespoon
Ghee-2 tablespoon
Water-1/4 cup
Directions:
In a pan, melt the grated jaggery with water on low flame.
Strain this mixture to remove any impurities.
Now reheat the strained solution and stir it frequently till it reaches one thread consistency.
Add the grated coconut to it and stir well till all the water is absorbed from the coconut.
Add the rice flakes or avil to it, mix well and stir frequently so that all the rice flakes are coated with jaggery and coconut.
Cook it over a low flame.
Add cardamom powder and dry ginger powder to it.
When the mixture thickens, turn off the flame and set it aside.
In another pan, add ghee and heat it.
Add Chana dal and roast it till it reaches golden brown.
Then remove the Chana dal from the flame and mix it with sweetened rice flakes.
Add sesame seeds to the ghee and roast it slightly.
Pour the ghee and the roasted sesame seeds to the sweetened rice flakes mixture.
Mix everything well.
Avil vilayichathu is ready to serve.
Footnotes:
This can be best served with plantain.
This can be stored in room temperature for 1 or 2 weeks in airtight containers.