Ayurved Style Veg Clear Soup
Need some comfort and warmth, then this veg clear soup never fails to deliver just that and much more. On a cold wintry evening, this simple to prepare, delicious, rich and healthy veg clear soup is a must try recipe. Adding some boiled noodles to this onion and garlic free soup, will prove to be a cherry on the icing.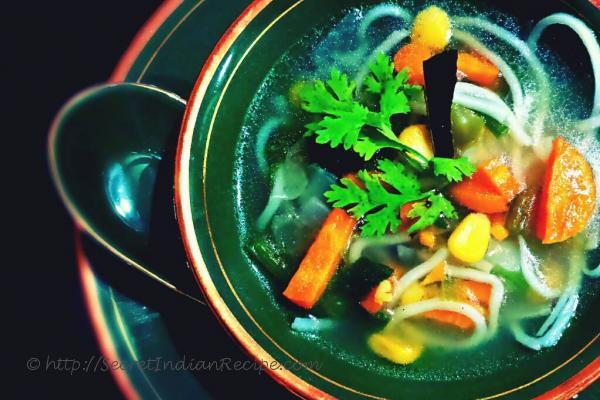 Ingredients:
Carrots- 1pc
Long beans- 50 gms
Corn- 50 gms
Cauliflower- 50 gms
Green peas- 50 gms
Water- 250 litres
Salt- to taste
Pepper- to taste
Oil- 1 tbsp
Ginger paste- 1 1/2 tsp
Lemon juice- 1 tsp
Garnish:
Roughly chopped coriander
Boiled wheat noodles (optional) - a few
Directions:
Heat water in a wok. Add the oil and all the chopped vegetables and ginger paste.
Cover with a lid and let the vegetables cook properly but not too soft. Reduce the water to 3/4th of original volume.
Add salt, pepper and the lemon juice. Pour in a serving bowl. Garnish with boiled wheat noodles (optional) and the chopped coriander.
Enjoy the delicious soup while still hot.
Footnotes:
Onion and garlic free soup. Ayurved recommends the use of ginger beacause of it's tremendous health benefits.