Baby Corn Fritters
This Halloween... surprise your guests with some home cooked fingers... Crispy Babycorn Fritters... served hot with Ketchup ... A perfect recipe for your Halloween Theme party :)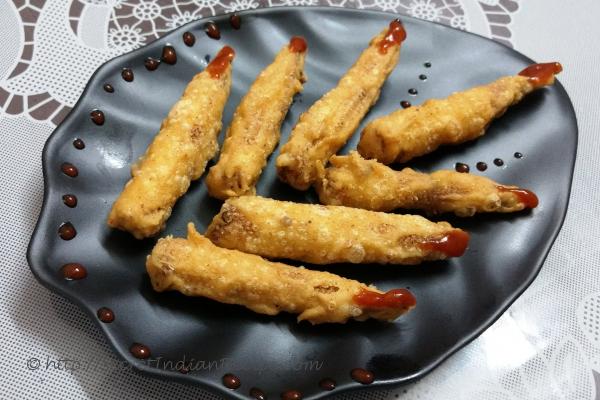 Ingredients:
Cornflour - 1/2 cup
Maida - 1/8 cup
Red chilli flakes - 1 Tsp
Black pepper powder - a pinch
Red Chilli Powder - 1/4 Tsp
Chaat Masala - 1/2 Tsp
Salt - 1/3 Tsp
Water - 1/4 cup
Babycorn - 12-14 pieces
Directions:
Take cornflour and Maida in a bowl. Add red chilli flakes & a pinch of black pepper powder to the bowl.
Add red chilli powder, Chaat masala and salt to the bowl. Now, add water to the bowl. Mix everything well to make a smooth paste.
Take the baby corn pieces and dip them into the mixture. Coat the baby corns well from all the sides.
Heat oil in a pan and deep fry the baby corn pieces till golden brown. Enjoy steaming hot fritters with Ketchup :)