Baby Corn Salad
If you prefer to have a healthy diet, this salad is a substitute to your office lunch. Rich in nutrients and enough like a complete meal.... You may serve it with Sweet corn or tomato soup to make your meal more interesting.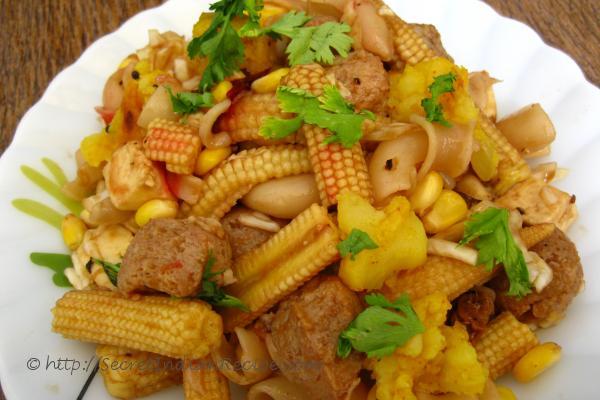 Ingredients:
5-6 Baby corns cut in 2 parts
1/2 bowl Sweet Corns
50 gram Cottage cheese (paneer) cut into cubes
1/4 cup finely chopped Cabbage
1/2 cup Pasta
1/4 cup Soya nuggets
1 table spoon Soya sauce
Black pepper and Salt as per taste
Coriander leaf for garnishing
Directions:
In a cooking pan boil water and add baby corns, sweet corn, paneer, pasta and soya nuggets and cook for 5-10 minutes, or till the time pasta is cooked well. Drain out water.
Add chopped cabbage, black pepper and salt, soya sauce and mix well.
Garnish with coriander leaf. Dish is ready to serve