Badsahi Mutton ( Royal Mutton Curry)
Mutton is a popular recipe in the bengali cuisine and in rest of the parts of India. Badsahi Mutton is a famous Mughal recipe which is very delicious and rich in taste. A well-developed goat containing good amount of fat has to be taken for this recipe.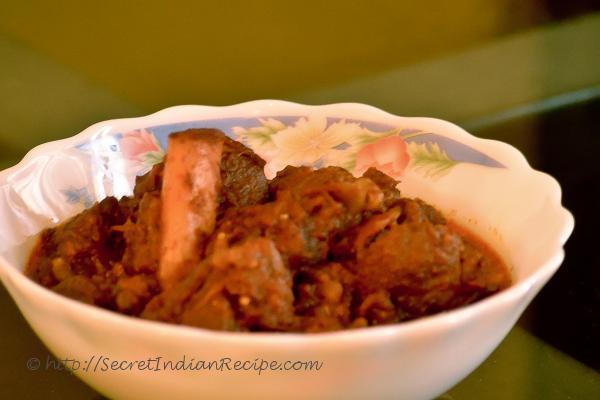 Ingredients:
Rewaji Mutton - 1 kilo
Choped Onion - 1 kilo
Ginger -Garlic paste - 3 tablespoon
Oil - 10 ml
Red chili powder - 2 tablespoon
Turmeric powder - 3 teaspoon
Salt to taste
Kewra water 1 tablespoon
Sugar - 1 tablespoon
Garam mashala( Cardamom, Cloves, cinnamom, Nutmeg, Mace) - 1teaspoon
Dahi (Curd) - 100 grm
Deshi ghee - 2tablespoon
A pinch of Saffron
Directions:
Marinate the mutton with salt, turmeric, chilli powder, dahi and 2 spoon of oil for at least 2 hours.
Mix the saffron with 50 ml milk and keep aside.
Fry the chopped onion til it turns brown.
Put the Gingar garlic paste and mix up with onion.
Add salt, sugar, chilli and turmeric powder. Stir it. You will notice the oil separating from the mixture.
Add the marinated mutton. Cook at a low flame for half and hour.
Add 2 cups water (depending on how much gravy you want) and cover the lid. Let the mutton cook for at least an hour now till the mutton becomes soft.
Add the garam masala and the milk with saffron. Stir well.
Finally add kewra water and mix well. Your dish is ready.
Serve with rice or roti.
Other Indian Recipes that you may Like !