Bagaara Khana,pulav Recipe(indian Pulav)
Pulav or Bagaara Khana is a Hyderabadi special dish. It is also a rice delicacy cooked with aromatic spices.This is the most common dish in India and is made on several occasions. It is called in different ways in different regions. It is usually referred to as 'pulav'. Pulav is called as Bagaara Khana in Hyderabad. It is a very simple dish but it is very aromatic when cooked with spices like cardamoms, cinnamon, caraway seeds, bay leaf etc. Pulav or Bagara Khana can be made with Basmati Rice/ordinary rice.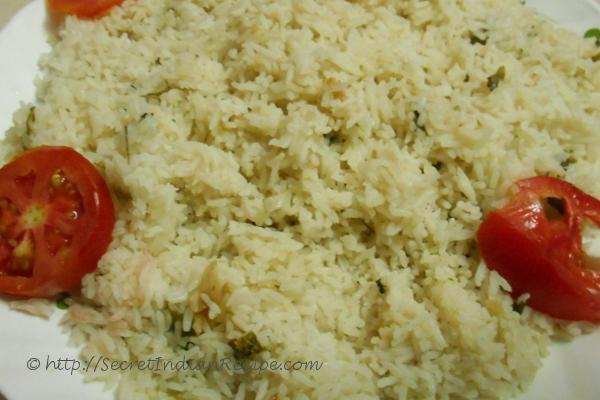 Ingredients:
1/2 cup oil or ghee
2 cups Rice(Ordinary or Basmati)
1 cup Onions sliced
1 chopped tomato
1 tsp ginger garlic paste
1 bay leaf
1 cinnamon stick(Dalchini)
2-3 cardamoms(Elaichi)
1/2 tsp caraway seeds(Shaahi zeera)
1 tbsp chopped coriander
1 tbsp mint leaves
2-3 slit green chillies
4 cups water
1/2 tsp lemon juice
salt to taste
Directions:
In a heavy bottom pan heat oil, add the bay leaf, cinnamon stick, cardamoms, caraway seeds, add finely chopped onions and fry the onions till golden brown, add ginger garlic paste and saute till the raw smell disappears. Add drops of water so that the base of the pan does not burn(optional). Add the slit green chillies, saute well, add the chopped tomato, add the chopped coriander, mint leaves, saute well. Now add water and add salt to it, add few lemon drops and bring the water to a boil. Once the water is boiled transfer the washed rice into it. Cover the lid and cook the rice. Once it is almost done simmer the flame. If cooked on high flame the rice at the bottom may burn. Cook till it is done . Switch off the flame. Garnish it with chopped coriander.