Bagam Bahar (fish Curry)
This dish is taken from Muslim cuisine. It has thick gravy and mouth watering aroma.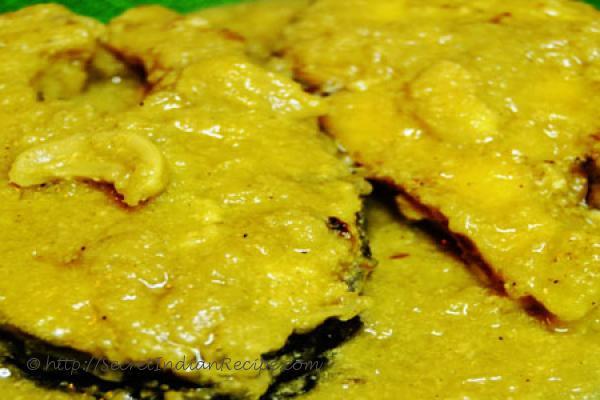 Ingredients:
King fish pieces 8 each 50 gm
Onion paste 1 cup
Sour curd 100 gm
Kashmiri red chilli powder 1 tbsp
Charmagaz ( mixed melon seeds) paste 1 tbsp
Poppy seeds paste 1 tbsp
Black cumin seeds paste 1 tbsp
Fresh cream 4 tbsp
Few green chilies
Salt to taste
Mustard oil 3 tbsp
Ghee 1 tsp
Bay leaf 1 (FOR TEMPERING)
Cumin seeds few (FOR TEMPERING)
Green cardamom 2 (FOR TEMPERING)
Cinnamon 1 stick (FOR TEMPERING)
Cloves 3 (FOR TEMPERING)
Directions:
Marinate the fish with salt and curd for 2 hours Heat oil in a pan and add the ingredients of tempering Add onion paste and cook for 3 minutes, when it turns brown in colour, add red chilli powder, char magaz paste, poppy seeds paste and black cumin seeds paste Stare well and add salt Add fish and marination, add half cup water and cream, cover the pan and cook for 5 minutes Add green chilies and ghee Serve with hot plane rice
Other Indian Recipes that you may Like !