Baigan Ka Bharta (mashed Eggplant Recipe)
A simple and easy to make side dish recipe.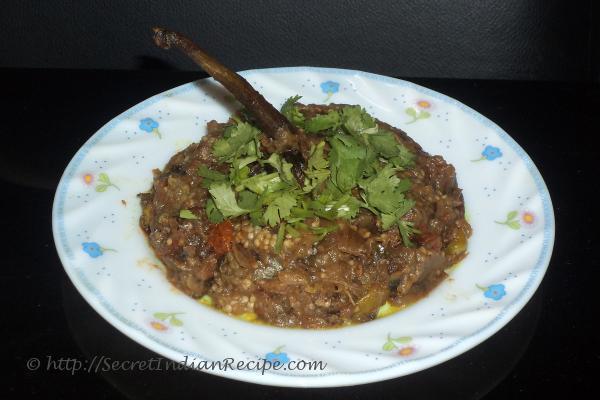 Ingredients:
Eggplant - 500 gm
Chopped onion - 1 whole mid size
Chopped garlic - 1 whole small size
Ginger paste - 20 gm
Coriander leaves - 10 gm
Salt - to taste.
Garam Masala-1/2 tablespoon
Green Chili - 4-5
Red Chilli powder-1/2 tablespoon
Cumin seeds - 1/4 tablespoon
Oil-2-3 tablespoon
Directions:
Wash the eggplant and brush oil all over it . Now take a grill pan and cook the eggplant from every side evenly. after that keep them for cooling.
After cooling peel off the skin and and mash the pulp..
Heat oil in a pan and add cumin seeds ,wait till it gets brown.Then add garlic ginger,onion and salt and cook for a mintue.
Now add the mashed eggplant in the pan along with red chili powder , turmeric , garam masala and green chili, and mix it nicely. let it cook for 5 mins.
Put off the flame and garnish the bharta with coriander leaves. your dish is ready to be served.