Baigan Ki Chaat (eggplant / Brinjal Chaat)
This is a side dish and can be served as a salad as well... very chatpata!!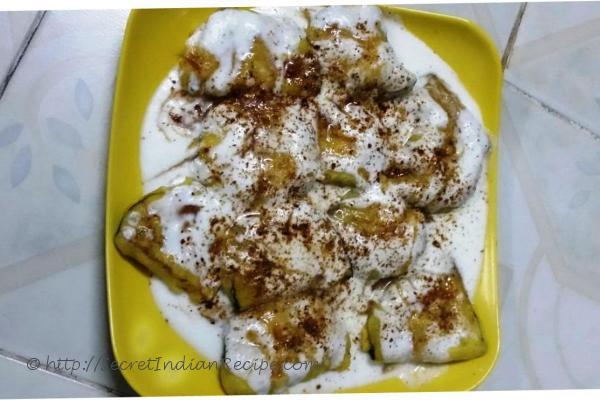 Ingredients:
1 big Brinjal
250 gms Curd
150 gms Gram flour / Besan
1 tsp Red chilli powder
2 tsp Green chutney
2 tsp Tamarind chutney
1 tsp Chaat masala
1 tsp Chilli flakes
Oil to fry
Salt to taste
3 tsp Sugar
Directions:
Cut the brinjal into thin round slices.
Make a smooth batter with gram flour, salt and water. the consistency should be like the batter of pakora.
Dip the sliced brinjals into this batter n deep fry till golden on all sides.
Take the square dish in which to serve and arrange the fried brinjals.
Mix curds and sugar with a pinch of salt and keep aside.
Now pour the curds over the brinjals. Put the green chutney, tamarind chutney, chilli flakes and chaat masala.
Serve Chilled.