Bainay Barthad (coorgi Style Brinjal Fry)
I love Coorgi cuisine because they use very similar ingredients like us Keralites. And the use of kachampuli a tamarind extract like our kodampuli makes their curries tangy and yummy. This brinjal preparation is a wonderful. Though this recipe has more oil,it brings out the flavours of brinjal perfectly. The first time I had it in Coorg I ended up eating a whole bowl. The fact that small green or purple brinjals are used to make this curry makes it extremely delicious and though this curry uses coconut you don't feel its sharp taste all thanks to Kachampuli. This dish is a great accompaniment for rotis as well as rice.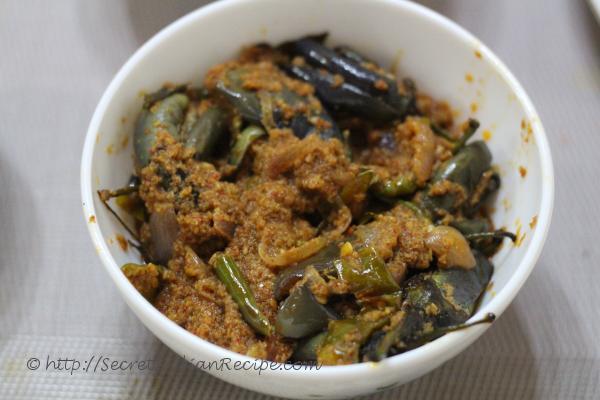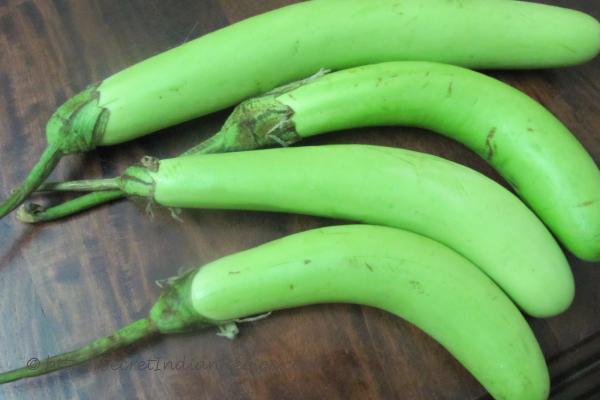 Ingredients:
Brinjals- 6-8
Onion-1
Ginger-garlic paste- 2 tsp
Chili powder- 1 tsp
Turmeric powder- 1/2 tsp
Coriander powder- 2 tsp
Salt- to taste
Kachampuli- 1 tsp
Grated coconut- 1 cup
Grated jaggery- 2 tsp
Oil- 4 tbsp
Mustard seeds- 1 tsp
Directions:
Wash and slit the brinjals length wise and leave the stalks intact. Marinate the brinjals with chili, turmeric, coriander powders, salt and kachampuli. Set aside for 15 minutes.
Heat oil in a pan and add the mustard seeds. Once the splutter, add the curry leaves followed by sliced onions and ginger-garlic paste.
When the onions starts to brown add the marinated brinjals and cook over low flame till the brinjals are well roasted.
Add the grated coconut now and cook the brinjals for 5 more minutes. Finally add the grated jaggery and give a thorough stir to blend in the sweet flavours with the tangy kachampuli.
The curry can be taken off the flame as soon as the jaggery dissolves thoroughly into the gravy. Serve with rotis.
Footnotes:
Use tender brinjals that are small. When I don't find them often I use normal long ones as seen in the image above.
Use freshly minced ginger-garlic paste.
If you have difficulty in getting kachampuli you can substitute with tamarind extract in the same quantity.