Baingan Kalonji ( Stuffed Brinjal With Dry Masala)
One of my favourite recipe, here brinjal is stuffed with various dry spices and is then cook on low heat.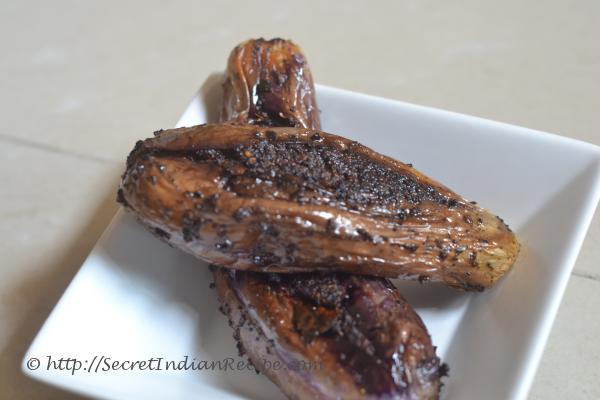 Ingredients:
Baingan ( brinjal or eggplant) - 250 grams ( of small or medium size)
Methi seeds - 1/2 tablespoon
Sauf ( feb nnel seeds) - 2 tablespoon
Mangreilla ( nigella seeds or onion seeds) - 1/2 tablespoon
Red chilli - 2 pieces
K hatai / amchur powder or red chilli pickle masala - 1 tablespoon
Salt - 1/2 tablespoon
Mustard oil - 6-7 tablespoon
Directions:
Wash the baingan throughly and cut its head. Make a cut from one side of each brinjal to stuff the filling.
Heat a tawa and put methi seeds, sauf, mangreilla nad red chilli and saute on low haet for few seconds till the aroma starts commin out and the masala becomes crisp.
grind the roasted masala into coarse powder. Now add khatai, amchur or red chilli pickle masala into it.
Pick up each baingan and fill the stuffing.
Heat oil in a karahi and then place each baingan carefully. Cook on low heat for 7-8 mintues and then turn the baingan on the other side. Again cook for 7-8 mintues. Check if both the sides are done. Serve hot with Plain Rice.
Footnotes:
You need to fill the stuffing carefully, otherwise the masala will spill over in the oil while cooking.