Baingan Ki Potli (aubergine Parcels)
It has become like a habit for me to play with spices and different styles of cooking. I keep fiddling with them until it reaches to a desired taste. Before serving it on a table to a guest, several experiments and tasting are done by various levels of staffs. I had faced such moments of anxiety many times. But this first dish of mine never went through these levels.
These Italian potlis are not my favourite because I was allergic to aubergines. But it was my first dish in my career which earned appreciation from an Italian guest who wanted to have something new.
Generally tomato slices along with cheddar or mozzarella cheese are wrapped in aubergine slices and then cooked on a barbeque. It goes well with red salsa or pomegranate dressing. But I have my own twist and turns to this special dish which had a huge impact on my career as a chef.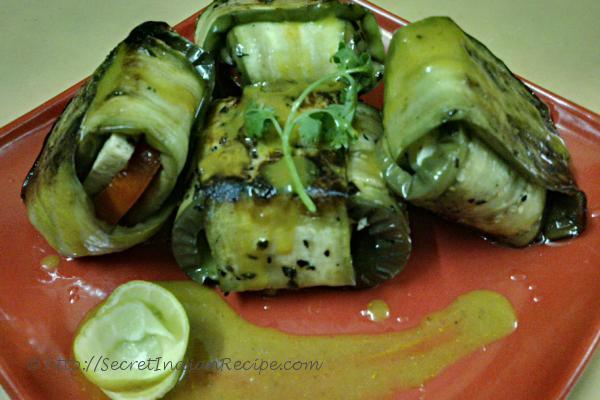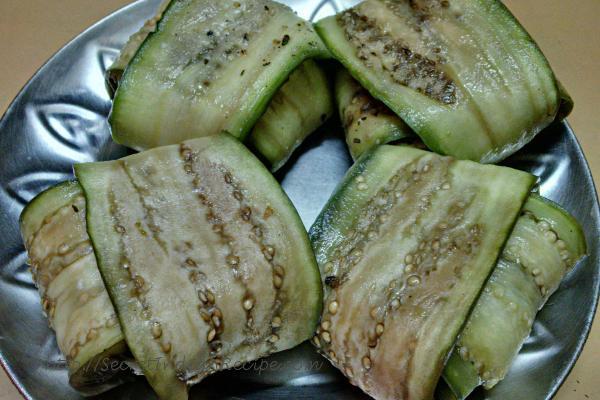 Ingredients:
Large aubergines- 2
Cottage cheese- 100gm
Lemon juice- 1/2tbsp
Roasted cumin powder- 1tbsp
Salt- To taste
Crushed black pepper- 1/2tbsp
Chopped coriander- 1tbsp
Ginger & garlic paste- 1/2tbsp
Round tomato slices (1/4cm)- 4
Cheddar cheese or processed cheese slice- 4
Oil- 150ml
Oregano- 1tbsp
Directions:
Cut the cottage cheese into 8 pieces of 1/4cm thick slices similar to the length of your tomato slices.
In a mixing bowl add two spoon oil, lemon juice, roasted cumin powder, ginger & garlic paste, chopped coriander, salt and pepper.
Mix them and marinate your cottage cheese with this and keep it aside for 10 minutes.
Now remove the stalks of your aubergines and slice them lengthwise in 1/4cm thickness.
Then boil water in a pot and add half tea spoon salt in it.
Boil your aubergine slices into this for two minutes. Drain it and pat dry them with paper napkin.
Now grill both sides of the marinated cottage slices on a tawa using very less oil until it gets nice reddish brown grilling marks.
Allow it to cool for 10 minutes.
Take two aubergine slices and arrange them in a cross pattern.
Place one cottage cheese slice in the middle then tomato slice and cheddar or processed cheese above it.
Cover it with another cottage cheese slice and then fold them to make a parcel turning the upside down.
Make similar parcels of the remaining aubergine slices and refrigerate it for 20 minutes.
Pre-heat your oven on 200⁰C for 15 minutes.
Now baste you roasting tray with little oil and arrange your parcels on it.
Drizzle little oil on the parcels as well and sprinkle dry oregano on it.
Roast it for 12 minutes or until it gets nice brown roasting mark on it.
Serve hot with yellow bell pepper puree or red salsa.
Footnotes:
You can use toothpick as well to avoid opening of the fold.
If you don't have a oven then you can also grill it on a hot tawa but make sure you turn carefully so that the fold doesn't open.
Grill cottage cheese on high flame. The idea is to give it a grilling mark and not to cook it.
You can roast and discard the skin of yellow bell pepper before making the puree. It will compliment the parcels much better.