Bajre Ki Roti (pearl Millet Roti)
Since old times, people of Rajasthan have been making rotis from different kinds of flours, which are widely available in the state. The reason behind this is the nutrition and energy obtained from these rotis allowing people to survive the extreme climatic conditions here. In winters, there is catapult change in the diet of the people. Gond ladoos, meetha dalia, bajre ki khichdi, bajre ki roti, etc become an integral part of the winter platter. I have recently, learned the art of making Bajre ki Roti and found it very delicious and easily digestive.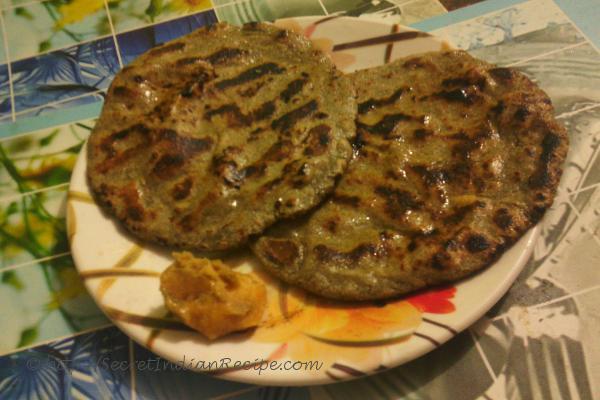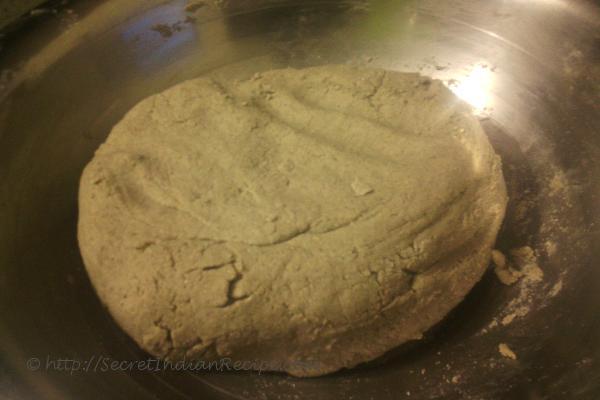 Ingredients:
Bajra Flour - 2 1/2 cups
Salt - 1/2 tsp
Warm Water - 1 cup
Clarified Butter / Ghee for applying on rotis
Directions:
Sieve the Bajra flour twice.
Now take 2 cups of Bajra flour in a kneading utensil and add salt to it.
Slowly pour warm water into the utensil and start kneading swiftly.
Knead into soft dough and cover with lid.
Keep it aside for about 15 min.
After 15 min, knead the dough for another 2 to 3 min.
Now take a pint of the dough and give it a smooth round shape.
Place the remaining 1/2 cup of dry flour in a plate and coat this smooth pint of dough with the flour.
Enlarge it by using the palms of both the hands. Add additional dry flour if it starts sticking.
Keep tossing it carefully between both the palms for evenly thick roti.
Place this roti on a hot tava and roast both the sides.
Then put the roti on direct flame and flip it occasionally till both sides get evenly brown.
Once done, place it in a plate and apply ghee to it and serve with hot curry, vegetable preparations, pickles, etc.
Footnotes:
This roti is generally thicker than normal wheat rotis and extra attempt to make Bajra rotis thinner will result in scattering of the dough.
Bajre Ki Roti is traditionally served with jaggery along with vegetable curry or chutney.
Many people use warm water instead of dry flour for expanding this rotis. But a lot of practice is required to expand it this way.