Bake Spinach Kofta Biryani
I love this recipe because of its ingredients and a unique combination - it has spinach, cheese,..., it is baked... its just yummy...
Whenever I have guest at home, this biryani is a must in the menu :) Whoever tasted this biryani, they cant stop licking their fingers ;)
It is so mouth watering that my son just loves it!!!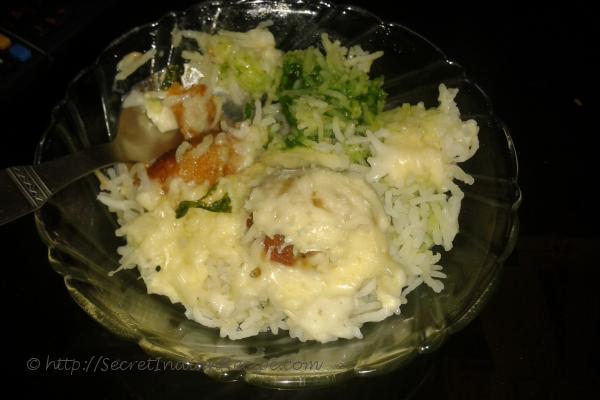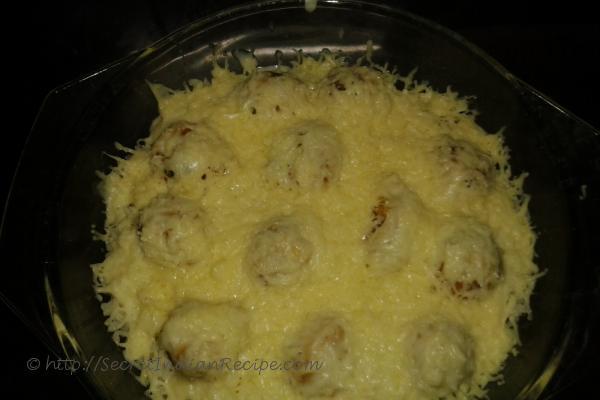 Ingredients:
Ingredients for Gravy:
1 tsp ghee
½ tsp chopped ginger
½ tsp chopped green chilly
½ tsp chopped garlic
½ bowl spinach paste
1 pinch salt
2 tsp mawa
¼ tsp Ajwain
1 pinch hing
1 tsp cream
1 tsp kasoori methi
B. 1 Cup rice (cooked)
C. Ingredients for Kofta
2 pieces potato (boiled, peeled and grated)
1 pinch cumin
1 pinch red chilly powder
1 pinch salt
1 pinch garam masala
1 tbsp corn flour
½ tsp maida
1 tsp mawa
1 tsp grated paneer
D. Ingredietns for White Sauce:
1 tbsp Butter
1 tbsp Maida
1 cup milk
1 pinch salt (optional)
1 pinch sugar
Directions:
A. Method to cook gravy: 1. Heat Ghee. Put ajwain and hing. 2. Add ginger, green chilly, and garlic and sauté for 2 minutes. 3. Add spinach paste and sauté for 2 – 3 minutes. 4. Add mawa, salt, cream and kasoori methi for 2 minutes. Keep it aside.
C. Method to cook Koftas: 1. Mix all kofta ingredients and make small balls. 2. Deep fry them at low flame and keep them aside.
D. Method to prepare white sauce: 1. Heat butter and add maida. Roast for 2 – 3 minutes. 2. Add milk and stir it continuously. 3. Add sugar and salt. Turn the stove off.
Presentation: 1. Take one bake dish. 2. Spread spinach layer. 3. Rice layer. 4. Kofta layer. 5. Which sauce layer and top cheese and bake for 5 to 10 minutes.
Footnotes:
You can avoid mawa if you wish to, but it gives good taste to the gravy. Serve hot to the guests.