Baked Chicken Cafreal
This dish is not usually baked, but I find baking chicken gives me the time to do something else without having to watch a pan constantly. My mum did it this same way sometimes, though; she had much more finesse than me. She would wrap bits of foil on the bone of the drumstick so it wouldn't burn and dry out. These mums I tell you!
Most Goans make a Cafreal, all of them a little different from the next. But one thing this dish has in common no matter who makes it? It is Hot, Lip smackingly good and you Will be asking for more. Though I do like this particular masala to be hot hot hot, Hot enough to make my lips feel warm, I`m called a sadist when I try to feed the same level of spice to my family. I scale the green chillies down a bit now, but my lips still crave the heat of my mums chicken Cafreal *sigh*
Just remember, this recipe makes a lot of masala. You can store this in the fridge or freezer.
So here we go. A slightly tame, though not mild, baked chicken Cafreal.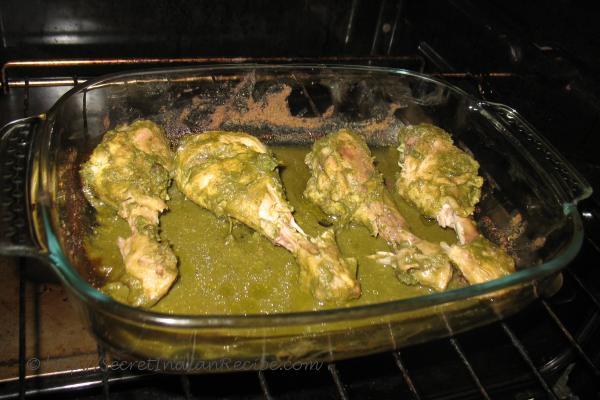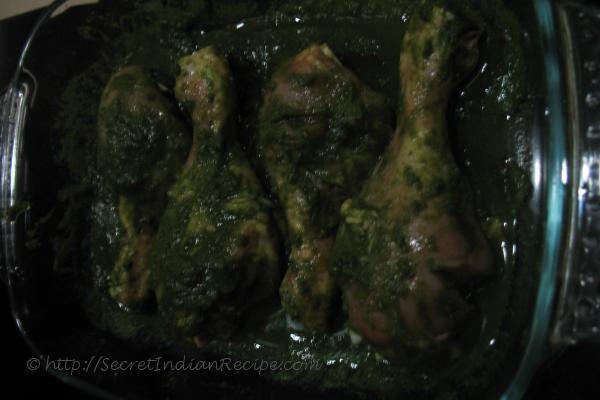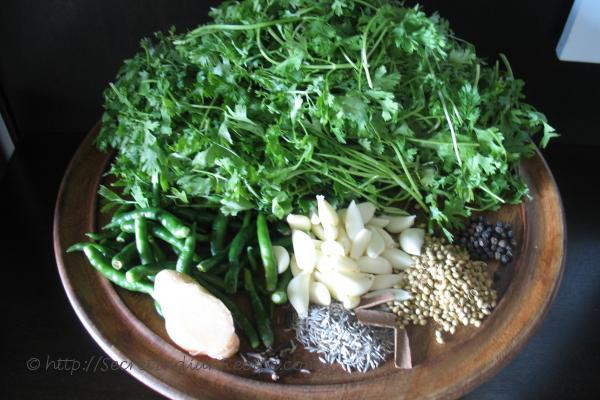 Ingredients:
• For the masala: • 3 cups Corriander leaves, washed
• 100 gms Green Chillies
• 1 inch of Ginger, roughly chopped
• 2 entire heads of Garlic, cleaned
• An inch of Cinnamon, broken up
• 2 tbsp Corriander seeds
• 1 tbsp Cumin seeds
• 8 Cloves
• 1 tsp Peppercorns
• 4 Chicken legs.
Directions:
Method: • Take all the ingredients for the masala and grind it to a fine paste in your mixer.
This will take anywhere between 5-10 minutes depending upon your mixer. • Make 2 slits each on you chicken drumstick. •
Marinate the legs in 4 tbsp of masala for 45 minutes or overnight. • Heat the oven to 180 degrees celcius. •
Put the chicken in an oven safe vessel. • Bake the chicken for 45 minutes turning once midway through cooking. •
Bake till center is cooked and the chicken turns golden. • Remove for the oven and let cool. • Enjoy!
Footnotes:
This recipe makes surplus masala that stays well in the fridge for 2 weeks or in the freezer for 3 months.
Other Indian Recipes that you may Like !