Baked Dahi Aloo (baked Curd Potato)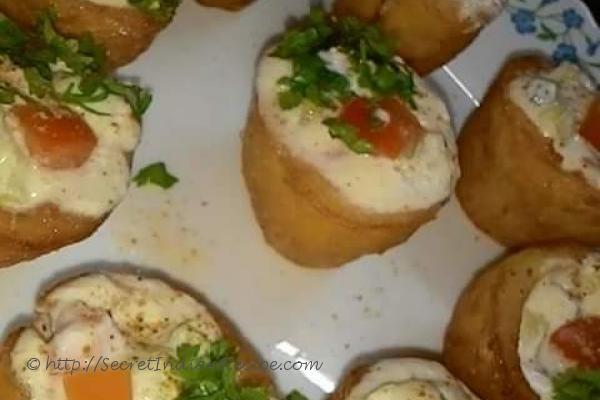 Ingredients:
Half boiled Potatoes
1/2 cup hung curds (chakka dahi)
2 tbsp finely chopped coriander (dhania)
2 tsp finely chopped green chillies
1 tsp garam masala
1 tsp chat masala
1 tsp chilli powder
a pinch sugar
salt to taste
3 tbsp cashewnuts (kaju) , broken into pieces
Directions:
Take half boiled potatoes, cut the potatoes in half. Using a spoon, carefully scoop out the middle of the potato, leaving the skin unbroken (like a boat).
Now to bake all half cut potatoes, heat the oven to 200C/180C and bake for 10-15 mins until golden.
After baking rest them fr 15 minutes. Meanwhile mix all the other ingredients with yogurt.
Carefully fill this mixture in baked potatoes with the help of spoon.
Decorate with coriander. Don't forget to sprinkle salt on potatoes before serving
Footnotes:
You can replace regular salt with fasting salt and enjoy it in during fast.