Baked Finger Millet Shankarpale
#DiwaliRecipeContest. Ragi Or Finger millet is originated in East Africa and now it cultivated in African countries and Southern Asia. Variety of dishes can be prepared using finger millet as a whole or flour. In Maharashtra, flour is used in many recipes including, Bhakri, Ragi Laddus, ragi kheer etc., Ragi Sattva kheer prepared from ragi is very good for babies.
Ragi is a good source of proteins, Minerals. It controls diabetes and has anti-cancer and anti-microbial properties. It reduces bad cholesterol thus prevents cardiovascular diseases.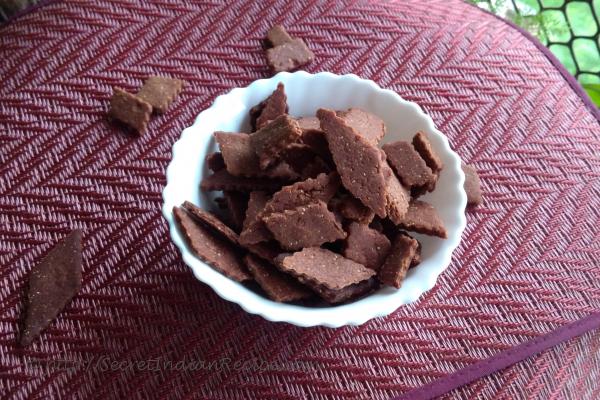 Ingredients:
Ragi or Finger Millet Flour – 1 ½ cups
Maida / Flour – 4 ½ tbsp.
Ghee – 1/4th cup + 2tbsp for greasing
Grated Jaggery – 1/4th or 1/2 cup (As per sweetness required)
Poppy seeds white – 1tbsp
Cardamom Powder – 1tsp
Salt as per taste
Warm Milk – ½ - 3/4th cup or as required for kneading.
Directions:
Mix All dry ingredients i.e. Ragi Flour, Maida, Poppy Seeds white, cardamom powder, salt together.
In a sauce pan add ghee and grated jaggery. Keep stirring continuously till jaggery melts.
Create a well in the center of flour.
Add melted jaggery, ghee mixture. Start mixing with the help of spatula as mixture would be little hot.
Mix well. Rub using palms till it forms a crumbly texture.
Knead into a stiff dough adding warm milk slowly at a time. Knead well, cover and keep aside for 15 minutes.
Dough may be bit crumbly in texture. If required, add little warm milk and knead it. Make small balls and roll it like thick paratha.
Remove rough edges using shankarpali or pizza cutter.
Cut into Diamond shape or any desired shape. Keep All shankarpale ready
Preheat oven at 180 degree C.
Grease baking tray, arrange 1st batch on tray. Brush, it with little ghee or oil.
Bake in preheated oven for 12-15 minutes or top turns into golden. Don't overbake as it will burn the shankarpale and ruin its taste.
Repeat the process with remaining shankarpalis.
Store or Serve with a cup of tea or coffee.