Baked Mustard Fish.
After the posto addiction comes the addiction to Mustard for all Bengalis. Numerous mustard paste based recipes are made in Bengali homes. The most famous one is Shorshe Machh or Mustard Fish. Maa used to make it the traditional way but I decided to give it a twist by baking it in a water bath and the result was yummy and healthy Shorshe Machh.....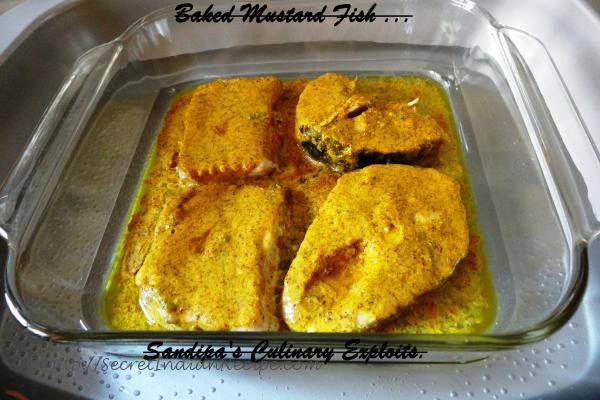 Ingredients:
4 Pieces of Rohu / Katla
4/6 Tbsp of Kasundi or Mustard Paste
1tsp Green Chilli paste
2 Tsp of Mustard Oil
1/2 Tsp of Sea salt/ Table salt
Aluminium foil to cover
Directions:
Marinate the fish pieces in Kasundi, green chilli paste, sea salt and mustrad oil in a Borosil/Pyrex pan for an hour or so.
Preheat the Oven at 180 degrees and bake it covered in aluminum foil, in a water bath for 25/30 mins. Serve with hot rice.
Other Indian Recipes that you may Like !