Baked Sweet Potato Dates Kachori
#DiwaliRecipeContest
Kachori made with sweet potato and stuffed with dates dry fruits stuffing tastes amazing with sweet curd. Baked kachoris stays good for 9-10 days in airtight container.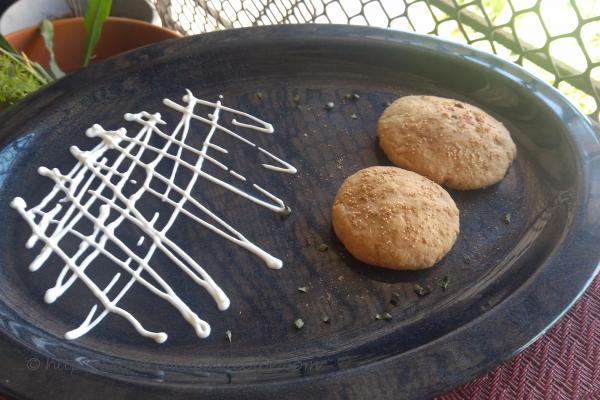 Ingredients:
For Covering – Sweet Potato – 3/4th Cup –Cooked using Microwave for 5-7 minutes, mashed
Maida – 1/4th cup
Fine Semolina – 1tbsp
Warm Ghee – 3tbsp
Cumin Powder – 1tsp
Coriander Powder – 1tsp
Amchur Powder – 1tsp
Crushed Carom Seeds – ½ tsp
Crushed fennel seeds - 1tsp
Honey –½-1 tbsp.
Salt as per taste
Milk as or if required for kneading
For Stuffing - Black Soft Dates – 9-10 – Deseeded and chopped finely.
Roasted Dry fruits coarsely powdered – 3-4tbsp (Almonds, Cashews, Pistachios, peanuts)
Amchur Powder – 1/2tsp
Cumin powder – large pinch
Coriander Powder – 1/2tsp
White poppy seeds - 1/2 tbsp for garnishing
Ghee – 1tbsp for stuffing + 1tbsp for greasing top of kachoris
Serving – Sweet Curd, green chutney, Shev etc.
Directions:
Make cuts on sweet potato and rub it with oil or ghee, sprinkle some salt and cook in a microwave for 6-7 minutes or until soft.
Take Flour or Maida in a bowl. Add hot/warm ghee. Mix well using spatula as mixture would be little hot. Rub well with fingertips till it gets crumbly texture.
Add Completely mashed Sweet potato, fine semolina, cumin powder, coriander powder, Amchur powder, Crushed carom seeds, Fennel seeds, salt and honey.
Mix well and knead into a tight dough. If required add warm milk and knead. Cover and keep aside for 15-20 minutes.
Stuffing - Heat Ghee in a non-stick pan. Add finely chopped deseeded soft dates. Mix well.
Add finely chopped or coarsely ground roasted dry fruits, cumin powder, coriander powder, and Amchur Powder. Mix well till it incorporates well with each other.
Cook for 2-3 minutes.
Switch off the flame. Allow mixture to cool completely.
Assembling – Make small balls of dough. Make a disk and start shaping them into small katories.
Add 1/2tbsp. or 1tbsp dates stuffing. Bring all edges together and seal the ends. Shape them like kachori.
Press gently with finger tips and roll with a rolling pin or press them using palms.
Repeat process with remaining dough. Sprinkle and press poppy seeds on top.
Bake in a preheated oven at 180 degree C for 15-18 minutes or until top turns brown and crisp. Or Heat oil or ghee in a pan or Kadai. Fry kachoris on low medium flame from both the sides.
Remove excess oil. Place them on kitchen towel.
Serve hot with Sweet curd, green chutney or Tamarind chutney and top it with shev.