Baked Tacos With Veggi Topping
UsuallyTacos is made up of maize flour but today I am making it in sweet corn paste it's comes out delicious, usually done by deep frying like puri, but I baked it in muffin moulds.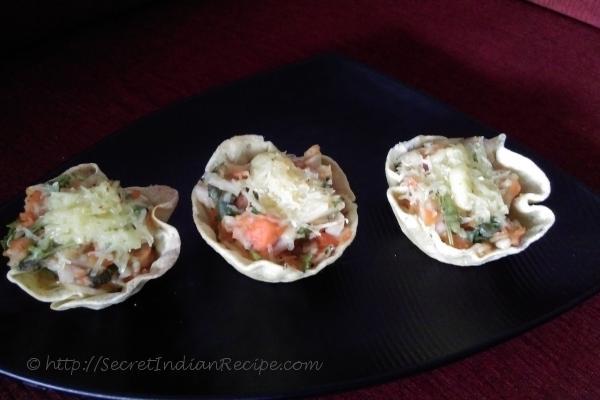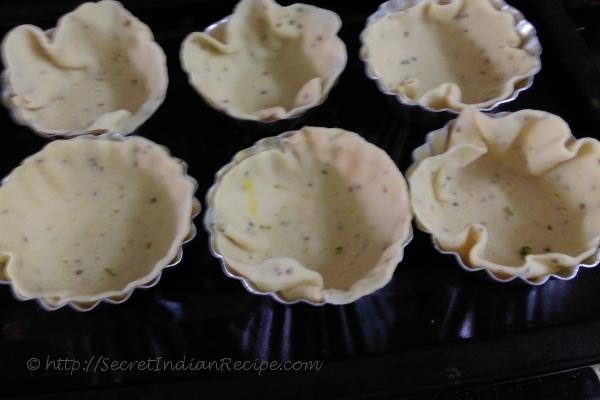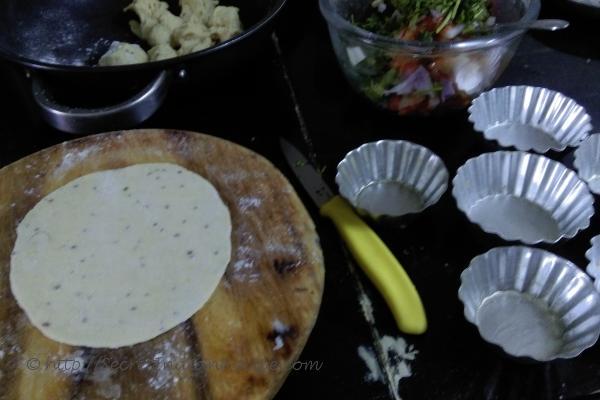 Ingredients:
Maida - 1 cup
Sweet corn paste- 3 tbs
Ajwine -1/2 tsp ( carom seed)
Salt to taste
Oil - 1 tbs
Water - 2 to 3 tbs
For topping
Potato-1 no chopped
Beans -6 nos
Cauliflower - 2 tbs chopped
Garlic- 5 cloves
Tomato- 1
All vegetables cut equal size and blanched
Olive-4 nos chopped
Jalapeño - 4 nos chopped
Onion - 1 no chopped
Tomato sauce-1 tbs
Salt to taste
Kalimirchi ( Black pepper)-1/2 tsp
Dhaniapata ( Coriander Leaves)- 3 tbs chopped
Cheese- 3 cubs grated
Mix all the vegetables and all above ingredients thoroughly.
Directions:
Sieve the flour ( maida) and mix sweet corn paste together in a deep bowl. Add the oil ,carom seeds and salt and knead into a semi stiff dough using 2 tbs water,
Divide the dough into 10 equal portions. Roll out a portion like a small puri using little plain flour for rolling .
Pre-heat the oven at 180' C.
Grease the oven proof muffin trays and place small puri( tacos) into the muffin moulds and use a fork to prick the bottom of the tacos. Bake it for 15 minutes .
Remove from the ovenware and add the vegetable topping and grated cheese again bake for 5 minutes. Serve hot with tea.