Balehannu Rasayana/banana Rasayan Recipe.
Balehannu Rasayana is a fruit salad made up of banana.We prepare this Rasayana on many festivals.If you have not tried this recipe,I suggest you to try this once.The flavours in this sweet are quite simple but tastes really nice.Some prepare this by adding milk but I am sharing a dry version which we make at home.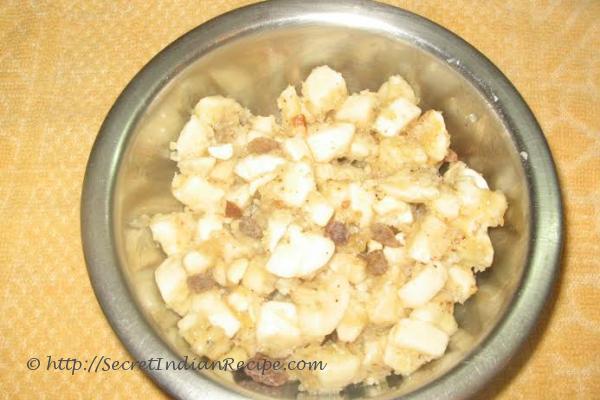 Ingredients:
Elaichi Bananas - 5 (or 2 regular ripen bananas).
Grated fresh Coconut-1/4 cup.
Cardamom powder-1/4 tsp.
Jaggery/Brown sugar - 4 tbsp powdered.
Ghee- 1tsp.
Honey- 2tbsp
Chopped nuts- 2 tbsp Almonds,cashews and raisins.
Directions:
Chop bananas in to small pieces after removing the peel.Transfer the chopped bananas in to a bowl.
Add powdered jaggery to the banana pieces.
Add grated coconut with cardamom powder,ghee,honey and mix well.
Just before serving garnish with Chopped nuts.
Serve it immediately.If it is kept for long the bananas will turn black.
Footnotes:
Do not use over ripened bananas.
You can even use sugar instead of jaggery but I prefer jaggery.
The color of this dessert depends on the jaggery color. Use a lighter version of jaggery to get a lighter color.
Banana Rasayana can be used with chapati,dosa,Shyavige or bread.