Balls In Kadhi
This is very old traditional recipe, My granny used to cook this recipe.
This is a complete meal recipe because it contains carbs, proteins, fats, vit and minerals, Tastes best when served hot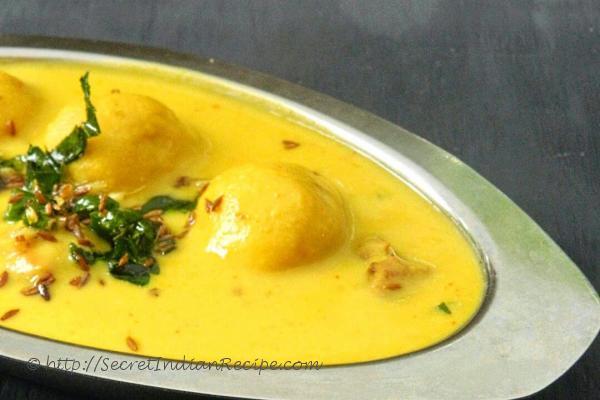 Ingredients:
Chana dal ( Bengal gram) 2 cups
Curd 3 cups
Gram flour 2 tsp
Ginger garlic paste 2tsp
chilli paste - as per taste
Oil 2tsp
Salt - as per taste
Turmeric powder – 1/2 teaspoon
Dhaniya ( Coriander powder) - 1/2 teaspoon
Jeera( Cumin powder) - 1/2 teaspoons
For tamper -
2 tsp Oil,
Mustard seed, 1 tsp
Cumin seed 1 tsp
Methi seed 1tsp
Curry leaves - as per requirement
Directions:
Soak chana dal for 2 hrs, then grind it by adding little water. Add ginger-garlic paste, salt, turmeric, chilli powder, dhaniya powder, cumin powder, chopped green coriander and mix it very well.
Take curd and whisk it very well by adding gram flour. Add salt, sugar for taste and add 10 cups of water. Mix it very well and keep aside.
Now take big pan, heat 3 tsp oil. Add methi seed, mustard and cumin and let them splutter. Then Add hing, curry leaves, green chilli paste and fry it very well.
Add curd batter to it and continue to stir till it comes to a boil. This step is most important step in successful recipe
Make small lemon size balls out of the chana dal batter and add one by one to kadhi but don't disturb them or mix them til they come up and then only mix. It takes 10 to 15 mins to cook. When they change colour means they get cooked (while adding balls keep gas flame high).
Prepare the tadka with cumin seeds, mustard seeds, meethi seeds and curry leaves in oil and pour it over the kadhi.
Garnish with chopped coriander leaves and serve hot with chappati.