Banana-cherry Bread
All happiness depends on a leisurely breakfast. Few warm slices of this cake with a glass of milk & you can start your day with a happy smile.
It's a crowd pleaser & kids love them most. #PowerBreakfast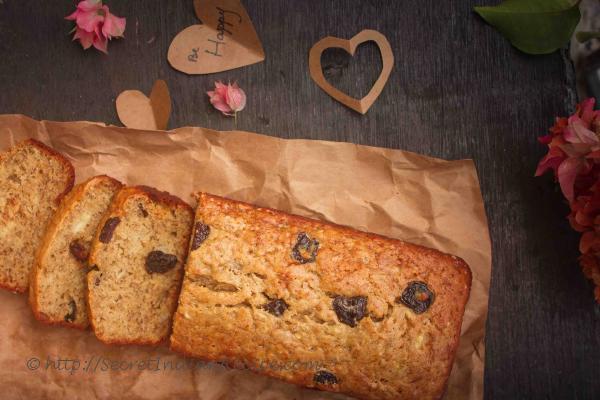 Ingredients:
Flour 110 gm
Demerara sugar coarsely grinded 70 gm
Baking powder 1/2 tsp
Baking Soda 1/8 tsp
Melted Butter 1/4 cup
Egg 1
Ripe Banana without skin200 gm
Dry cherries 2 tbsp
Vanilla extract 1/2 tsp
Cinnamon powder 1/4 tsp
Directions:
Butter and flour the bottom and sides of a 6'' loaf pan.Set aside.
Preheat oven to 180 degrees C .
Mix all dry ingredients except cherries and sieve once.
In a bowl mash the bananas. egg, melted & cooled butter, cherries and vanilla extract. You don't need beater for this.Use a wooden spatula or a silicon one.
Now mix the flour with the wet at once. Don't over mix.
Pour the mixture into the loaf tin and bake for around 35 to 45 min till it's done.
Let it cool for 10 min in the baking tin itself. Un-mould it after that and serve warm .
Footnotes:
You can use wheat-flour & all-purpose flour in 50:50 ratio also.